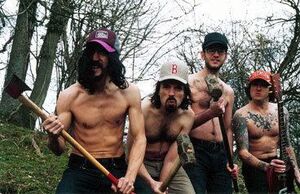 Ten Benson are a rock band from London, United Kingdom formed in 1997. Their early releases saw them described as "psychedelic hillbillies", but they later moved on to a (cod-)heavy metal sound. The band was formed in 1997 by ex-Swimmer singer/guitarist Chris Teckkam, with Shiva Affect drummer Napoleon Catilo, and bassist Duncan Lovatt. Jonny Wood came in for live shows on keyboard and general crazy shenanigans etc.
Three 7" singles were released in 1997 and 1998, the latter ("Evil Heat") getting considerable airplay on BBC Radio 1. These singles were compiled onto the 6 Fingers of Benson mini-album on Deceptive Records. The United Colors of Benson EP followed in November 1998, these early release seeing them described as a "geeky gaggle of quirk-rock experimentalists".
(read more on wikipedia)
Links to Peel
In an 2017 interview with Louder Than War, bassist, Duncan Lovatt, mentioned Peel as an influencer:
"I remember a music teacher at junior school telling me to consider coming back to music when I was older because I couldn't play the recorder. I think I wanted to prove her wrong though. If Mark E Smith and Daniel Johnston could do it, then so could I. There was no internet back then and so you either relied on the music press, John Peel or your siblings to introduce you to new music." [1]
He also mentioned in the interview liking Terry Edwards and hearing him on Peel's show:
"I remember being amazed when Terry Edwards agreed to record brass parts on a track that I had written for the album. I had been a big fan of Terry Edward's versions of The Fall and Jesus and Mary Chain tunes that Peel dutifully broadcast on his show." [2]
Also Lovatt mentioned that Peel picked up Ted Benson's debut single:
"The first Ten Benson single was a tune I had written for Swimmer called City Hoppers. A song influenced by my mum's experiences on Chesterfield's East Midlands bus service. We backed this with a Lou Reed/Country style version of a live Swimmer fave called Transport Overseas. The 7" was picked up by Peel and we were off." [3]
In total, the band did two sessions for Peel's show as well as regularly played by the DJ on his programmes, including two entries in the 1998 Festive Fifty and an album of the month for June 2002 (Peel's Record Box).
Festive Fifty Entries
Sessions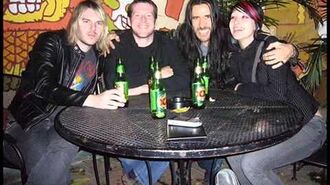 1. Recorded: 1998-05-09. Broadcast: 11 June 1998
Evil Heat / Uncle Benson / Count The Dog / Hell This Hour
2. Recorded: 2000-05-10. Broadcast: 03 October 2000
Stern / I Don't Buy It / Raggedy Man / Rock Cottage
Other Shows Played
1998
1999
2000
2002
2003
External Links
Community content is available under
CC-BY-SA
unless otherwise noted.