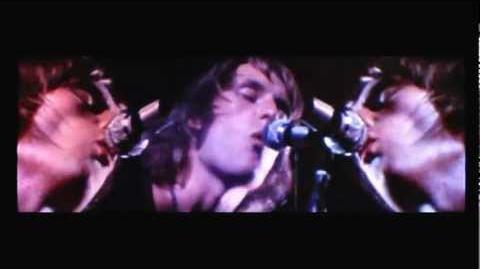 Ten Years After are an English blues-rock band, most popular in the late 1960s and early 1970s. Between 1968 and 1973, Ten Years After scored eight Top 40 albums on the UK Albums Chart. In addition they had twelve albums enter the US Billboard 200, and are best known for tracks such as "I'm Going Home", "Hear Me Calling", "I'd Love to Change the World" and "Love Like a Man". (Read more at Wikipedia)
Links to Peel
Peel first saw Ten Years After in 1967, when they were gaining a reputation with a residency at London's Marquee Club, and speaking to Melody Maker's Michael Watts in 1971 he recalled enthusing over their performance with Andy Roberts, who had also attended the gig:
"Now the first time I saw Ten Years After was when I went to the Roundhouse with Andy Roberts, and we came back and I felt the same way as I had done with Duane Eddy. I was really knocked out, because there were all these grubby lads from Leicester, or wherever it was, and Alvin Lee's playing was just great, incredible to listen to. Flash, but there's nothing wrong with being flash if you mean it, as long as it's committed flashness rather than just going through it for an audience....."[1]
In late 1967, he played tracks from their debut LP on Top Gear, and the band did their first session for the programme. But he gradually became disillusioned with their music. In International Times column in the issue of 23 August 1968, he wrote:
A "live" LP not recorded at the Fillmore? A revolutionary concept, I hear you cry. But the new Ten Years After LP, due for release shortly, was recorded at Klook's Kleek. I'm not entirely easy about the music. All the members of the group are considerable musicians and Alvin Lee must be the fastest guitarist in the world, but there does seem to be a danger of their records degenerating into heartless virtuoso performances. I hope I'm wrong - and I usually am - but I didn't really enjoy the "Undead" LP as much as I'd hoped. Anyway hear it and see for yourself.
In a Melody Maker interview from December 1968 Alvin Lee, possibly responding to this criticism, said of Peel: "John Peel is cool to himself with his show but unintentionally he is making the scene paraniocally aware as soon as anything new gets on it. Then when it gets popular he leaves it alone..."  He claimed Peel "is making the scene small inadvertently. He makes it all so intense and trendy" ([2]). Although Peel was still willing to give TYA a chance at this point, his opinion of the group did not improve, and eventually he and producer John Walters stopped booking them for Top Gear sessions. In Zigzag 24 (1972) Walters explained why:
We could get much bigger names - in fact we've turned down some of the biggest international names - we just don't want to know any more, because they've stopped doing anything. A good example is Ten Years After; I did the last Top Gear session with them, and we broadcast it, because I thought that John liked them, and they'd been on in the past, and when it went out, he said "Christ, this goes on a bit", listening to a six or seven minute "Good Morning Little Schoolgirl" boogie blues - one suddenly realised that they had started to become victims of their own publicity, and it was now "I will now break the hundred yards dash on the guitar"
He continued:
I didn't even bother to put on the last TYA album when it came in, but John still ploughs through everything that comes in, and he picked out a track that he felt showed they were trying to get out of their rut a bit, and it could happen that we might be willing although they might not be by now - to have them on again
In the early 1970s, Peel tended to mention TYA alongside Deep Purple and Emerson, Lake & Palmer, as groups who played pseudo-progressive music. Yet whereas the latter two bands ignored his criticisms, Alvin Lee eventually became weary of having to play "Goin' Home" - which had been included in Michael Wadleigh's film of the 1969 Woodstock festival, and had made them world-famous - at every gig. Therefore, Ten Years After split up in the mid-1970s and Alvin Lee worked on a number of solo projects. From currently available tracklistings, there is no evidence that Peel played any of Lee's post TYA work, although the duo of Lee and gospel singer Mylon Lefevre did record a Top Gear session in 1973.
Festive Fifty Entries
Sessions
Five sessions, possibly six. The sixth, listed on the BBC Peel site but not by Ken Garner in the artist section of The Peel Sessions (the standard reference for this site), was released by EMI in 2010 as a digital EP called John Peel Session (23rd November 1972). No official releases are known of the five other sessions.
1. Recorded: 1967-11-21. First broadcast: 10 December 1967. Repeated: ?
Love Until I Die / Don't Want You Woman / Sometime I Feel Like Going Home / Losing The Dogs (& 'The Sound', first broadcast 21 November 1967)
2. Recorded: 1968-03-13. First broadcast: 07 April 1968. Repeated: 12 May 1968
Rock Your Mama / Portable People / I Ain't Seen No Whiskey (& 'May Be Wrong But I Won't Be Wrong Always', first broadcast 14 January 1968)
3. Recorded: 1968-08-14. First broadcast: 18 August 1968. Repeated: 29 September 1968
Woman Trouble / Woodchoppers Ball / I'm Going Home (& 'Spiders In My Web', first broadcast 29 September 1968)
4. Recorded: 1968-12-30. First broadcast: 05 January 1969. Repeated: 02 March 1969
Don't Want You Woman / Speed Kills / A Sad Song / No Title (& 'Woman Trouble', first broadcast 02 March 1969)
5. Recorded: 1969-06-09. First broadcast: 15 June 1969. Repeated: 27 July 1969
Good Morning Little Schoolgirl / Woke Up This Morning / I Can't Keep From Crying Sometimes (& 'Crossroads', first broadcast 27 July 1969)
6.(?) Recorded: unknown. First broadcast: 23 November 1972. Repeated: ?
I'm Writing You A Letter / There's A Feeling / Rock N Roll Music To The World
Other Shows Played
See Also
External Links
Community content is available under
CC-BY-SA
unless otherwise noted.