(This page is about the American Grindcore/Death Metal band. For the Extreme Metal magazine of the same name, see Terrorizer).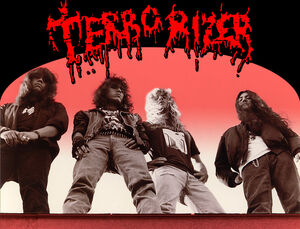 Terrorizer is an American Grindcore and Death Metal band from Los Angeles / Huntington Park, California formed in 1986. After releasing a handful of demo tapes in 1987 and 1988 and splitting up in 1988, they recorded the full-length album "World Downfall" posthumously in the now legendary Morrisound Recordings studio (Tampa, Florida) with engineer-guru Scott Burns. At the time of this recording Terrorizer's original bass player Garvey was in jail so David Vincent of Morbid Angel filled in. After disbanding, its members gained recognition by playing in influential extreme metal bands, such as Morbid Angel (David Vincent, Pete Sandoval), Napalm Death (Jesse Pintado) and Nausea (Oscar Garcia, Alfred "Garvey" Estrada). To date, Terrorizer has released three studio albums, and broken up twice (in 1989 and 2006). The band reunited again in 2009, this time without Pintado, who had died three years earlier. The British extreme metal magazine Terrorizer is named after the band.
Links To Peel
Peel played tracks from the band on his show in 1989 after the band split. The band did a split self titled album with Nausea in 1988 and then produced their own album that was released in 1989 after they split up.
Shows Played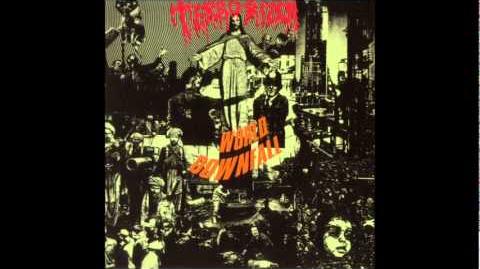 1989
See Also
External Links
Community content is available under
CC-BY-SA
unless otherwise noted.