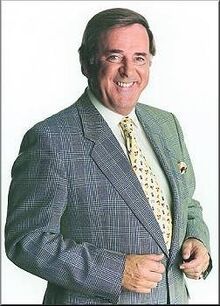 Sir Michael Terence "Terry" Wogan, KBE DL (3 August 1938 - 31 January 2016) was an Irish radio and television broadcaster who worked for the BBC in the United Kingdom for most of his career. Before he retired from his weekday breakfast programme Wake Up to Wogan on BBC Radio 2 in 2009, it had eight million regular listeners, making him the most listened-to radio broadcaster in Europe. Wogan began his career at Raidió Teilifís Éireann where he presented shows such as Jackpot in the 1960s. Wogan also got involved in the music career by releasing a few singles and one album in 1978 and was granted an honorary knighthood as an Irish citizen but after obtaining dual British-Irish citizenship in 2005, this was automatically converted to a full knighthood. Wogan died of cancer aged 77 in January 2016.
Links To Peel
Peel and Wogan both had shows that were next to each other on BBC Radio One in the early 70's, where they would chat to each other during intervals. Wogan was enough of a friend to have attended Peel's wedding with Sheila in 1974 [1]; however the two started to lose contact with each other through the years, when Peel claimed that Wogan became increasingly distant. On many occasions, Peel would make sarcastic comments about Wogan, such as one made on 07 August 1982:
"By dint of skilful engineering and a measure, I must confess, of unscrupulousness, we've managed to keep Gloria Hunniford out of this particular programme, but the price we had to pay was Terry Wogan."
Peel on his 07 December 1983 show criticised the music played on the charts and mentioned it was dismal and no different to Wogan's BBC Radio 2 show.
But despite this, Peel didn't seem to have any personal animosity towards Wogan - in contrast to some of his remarks about some Radio 1 colleagues such as
Tony Blackburn
and
Simon Bates
. On the 20th anniversary of BBC Radio One in 1987, Wogan invited Peel and
Tony Blackburn
on his BBC1 TV talk show,
Wogan
, for a special edition called
Wogan: 20 Years of Radio 1 Special
, where both talked about their work on the station.
Peel may have preferred Terry Wogan's predecessor on the Radio 2 breakfast show, Ray Moore, who is in his select list of "Great Broadcasters" mentioned in Margrave Of The Marshes, but he seemed to retain some respect for the Irishman's broadcasting skills. As a fan of the Eurovision Song Contest, Peel made an appearance on Wogan's A Song For Europe in 2003, where he talked about his love for the competition.
One tribute to Wogan noted that, like Peel, he was one of the few DJs to have an interest in, and a flair for, language; he "became one of the few presenters on radio music stations whose audiences routinely wanted the singers to shut up so that they could hear more of the host talking".[2]
External Links
Community content is available under
CC-BY-SA
unless otherwise noted.