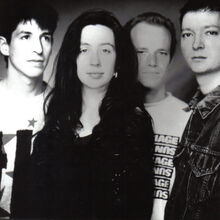 Th' Faith Healers were an English indie rock band who were originally active between 1990 and 1994. The members of the group were Roxanne Stephen (vocals), Tom Cullinan (guitar and vocals), Ben Hopkin (bass), and Joe Dilworth (drums). They recorded multiple EPs and singles along with two full LPs.
Tom Cullinan, who handled the bulk of the songwriting, went on to help form the band Quickspace. Signed to Too Pure in the United Kingdom, their albums were released by Elektra in the United States. Both albums feature clear krautrock influences, most evident in their cover of Can's "Mother Sky", from Lido.
Since their initial break-up in 1994, the band have reformed intermittently. They embarked on a short reunion tour in 2006 in conjunction with the release of their compilation Peel Sessions the previous year. The band reformed in 2009, playing at the All Tomorrow's Parties music festival twice, first in May (curated by The Breeders) and then again in December (curated by My Bloody Valentine).
Links to Peel
Peel seemed to have first play Th' Faith Healers in late 1990 and would continue play their material as well as the 5 sessions they did for his shows until the band split in 1994. He continued his interest in Tom Cullinan's project, Quickspace after Th' Faith Healers disbanded.
Festive Fifty Entries
Sessions
1. Recorded: 1991-03-24. Broadcast: 27 April 1991. Repeated: 22 June 1991
Coffee Commercial Couples / Bobby Kopper / Jesus Freak
2. Recorded: 1991-11-24. Broadcast: 11 January 1992. Repeated: 20 March 1992
Hippy Hole / This Time / Reptile Smile / S O S
3. Recorded: 1992-07-05. Broadcast: 24 July 1992. Repeated: 11 September 1992
Love In Sesh / Moona Inna Joona / I'm Ready / Get Th'Fuck Out Of My Face
4. Recorded: 1993-03-16. Broadcast: 10 April 1993. Repeated: 30 July 1993
Rave Track / Bulkhead / Sparkingly Chime / Serge
5. Recorded: 1994-01-27. Broadcast: 05 March 1994. Repeated: 17 March 1995
Ooh Lah Lah / Curly Lips / New No 2 / Without You
Other Shows Played
1991
1992
1993
1994
External Links
Community content is available under
CC-BY-SA
unless otherwise noted.