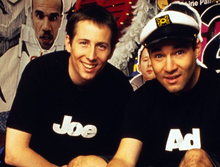 The Adam and Joe Show was a British television comedy show, written and presented by Adam and Joe (Adam Buxton and Joe Cornish), which ran for four series on Channel 4 between 1996 and 2001. All four series are available free to watch on All 4, but currently only a compilation of the best of the entire run is available on DVD, however all episodes are available on iTunes.
Links To Peel
Peel was a fan of the show and on the Radio Times in 1999 (later republished in the title Whatever You Want in the Olivetti Chronicles) mentioned enjoying the series:
"I sat down to enjoy programme one of a new series of The Adam and Joe Show. Having enthused over the two previous series, I'm reluctant to say much about the new one for fear
that cynics among you - and I know you're there, you rogues - might believe that I have a financial interest in the programme, but the toys version of Saving Private Ryan is good and there will be those who are entranced to hear that the first pop personality under investigation by the Vinyl Justice Squad this time around is Mark E. Smith of The Fall, a man who makes Adam and Joe look conventional. What a hero. Where's Mark going to be when the millennium cracks? That's where I want to be."
In 2002, Peel interviewed Adam and Joe at Glastonbury for the BBC, where amongst others, they impersonated the man himself.
External Links