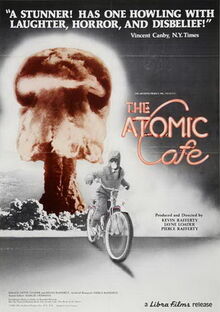 The Atomic Cafe is a 1982 American documentary film produced and directed by Jayne Loader, Kevin Rafferty and Pierce Rafferty. The film covers the beginnings of the era of nuclear warfare, created from a broad range of archival material from the 1940s, 1950s and early 1960s including newsreel clips, television news footage, U.S. government-produced films (including military training films), advertisements, television and radio programs. News footage reflected the prevailing understanding of the media and public.
Links to Peel
On his 23 November 1982 show, Peel mentioned visiting the House Of Parliament, which is part of the House Of Commons, to see the film The Atomic Cafe, a documentary about nuclear warfare, which he thought was a great film and recommended to watch. Peel also played music from the soundtrack of the film on his shows.
Plays
(LP - Atomic Cafe: A Soundtrack Album) Rounder
External Links
Community content is available under
CC-BY-SA
unless otherwise noted.