"My favourite magazine is The End from Liverpool, which concerns itself with music, beer and football. The very stuff of life itself." (John Peel)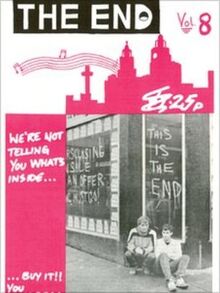 The above quote comes from Peel's only known appearance on the Oxford Road Show, in 1982 or 1983, when he interviewed the editors of the cult fanzine. It also had pride of place on the front cover of an anthology of all 20 issues of The End that was published in late 2011. [1]
Peel was an early champion of The End and an interview with him was published in issue #5 in 1982. He also turned up in its celebrated Ins & Outs lists in both categories. [2] Later, he became a consistent supporter of The Farm, the band led by The End co-editor Peter Hooton.
See Also
The World Of The End: 1998 Granada TV documentary on the fanzine. Includes both clips from the early 1980s ORS Peel interview with the editors and a contemporary interview with the DJ.
Links
Community content is available under
CC-BY-SA
unless otherwise noted.