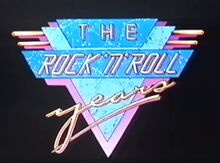 The Rock 'n' Roll Years was a BBC1 television programme aired between 1985 and 1994. In a half-hour time slot the programme focused on a different year each week, starting with the year 1956 and ending with 1989. The format of the programme, which was based on the BBC Radio 1 series 25 Years of Rock, was primarily of news clips with narrative subtitles set to music of the time with no presenters or voice-overs. Archive footage of performers, mostly from BBC programmes such as Top of the Pops, was also featured.
The theme tune to The Rock 'n' Roll Years was a medley containing riffs from a number of popular songs, including for example "(I Can't Get No) Satisfaction" by The Rolling Stones and "Layla" by Derek And The Dominos. The first set of episodes covered the years 1956–63, and was aired over July and August 1985. The second set covered 1964–71, and aired between June and August 1986. The years 1972–80 were over the same period in 1987.
For the 1994 series, which covered 1981–89, a similar medley was created using extracts from 1980s hits such as "Like a Virgin" by Madonna, "Radio Ga Ga" by Queen, "Every Breath You Take" by the Police, "Do They Know It's Christmas?" by Band Aid and "The Look of Love" by ABC. These episodes were aired between February and April.
Several episodes of the series was repeated on BBC Four in 2008.
Links to Peel
Peel appeared on an episode clip from 1968 introducing Cream's Farewell Concert at the Royal Albert Hall, London. The clip was shown on the Rock 'n' Roll Years episode for 1968, broadcast on 28th July 1986.
On his 30 July 1986 show, Peel mentioned listeners writing to him about seeing a clip of him on the TV programme introducing Cream at their farewell concert. However, Peel responded in saying that he did not see the TV show. It is not currently known whether Peel appeared in other episodes as well.
External Links