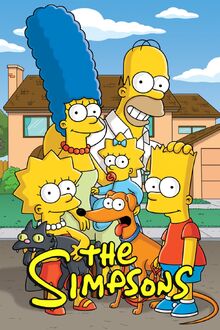 The Simpsons is an American animated sitcom created by Matt Groening for the Fox Broadcasting Company. The series is a satirical depiction of working-class life, epitomized by the Simpson family, which consists of Homer, Marge, Bart, Lisa, and Maggie. The show is set in the fictional town of Springfield and parodies American culture and society, television, and the human condition.
The family was conceived by Groening shortly before a solicitation for a series of animated shorts with producer James L. Brooks. Groening created a dysfunctional family and named the characters after his own family members, substituting Bart for his own name. The shorts became a part of The Tracey Ullman Show on April 19, 1987. After three seasons, the sketch was developed into a half-hour prime time show and became Fox's first series to land in the Top 30 ratings in a season (1989–90).
Since its debut on December 17, 1989, 640 episodes of The Simpsons have been broadcast. It is the longest-running American sitcom, and the longest-running American scripted primetime television series in terms of seasons and number of episodes. The Simpsons Movie, a feature-length film, was released in theaters worldwide on July 27, 2007, and grossed over $527 million.
Links to Peel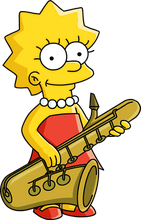 Peel made a comment that South Park was not as good as The Simpsons, on his April 1998 (FSK) show. He also commentated in the Guardian newspaper, published on 19th November 2001, that he tends to watch the omnibus editions of the show when looking for something to watch on TV:
"I tend to scan the satellite channels to find something worth watching and end up watching The Simpsons omnibus. My favourite character? I forget the names - I can't even remember the names of my own children - but I adore the little girl who plays the saxophone. Lisa, that's right. I would have been proud to have her as a daughter." [1]
External Links