(This page is about the TV documentary. For the British band of the same name, see The Wedding Present).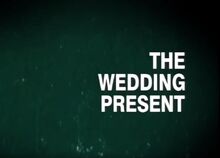 The Wedding Present was a TV documentary about the band of the same name, that was broadcast in the ITV Yorkshire region in 2004. The programme featured Wedding Present's singer David Gedge, as well as his parents and ex-girlfriend. Plus contributions from John Peel and Simon Cleave, who is Gedge's co-songwriter. The documentary was filmed and produced by Andrew Lurcuck.
Links to Peel
Peel made an appearance between 4:07-4:23, 5:25-5:43, 15:50-16:08, 20:56-21:03 and 21:55-22:12 of the video. In the documentary, Peel filmed at his home in Peel Acres, talked mainly about the Wedding Present singer David Gedge, including how Andy Kershaw discovered his band before him and the personality of the singer.
External Links