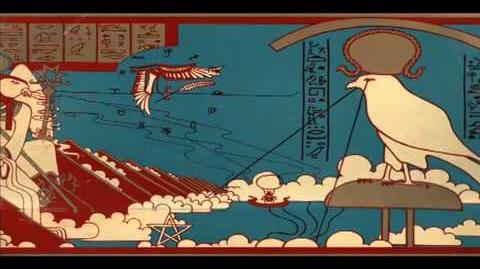 Third Ear Band evolved within the London alternative and free-music scene of the mid-1960s.
Members came from The Giant Sun Trolley and The People Band to create an improvised music drawing on Eastern raga forms, European folk, experimental and medieval influences. They recorded their first session in 1968 for Ron Geesin which was released under the pseudonym of The National-Balkan Ensemble on one side of a Standard Music Library disc. Their first actual album, Alchemy, was released on the EMI Harvest label in 1969, (featuring John Peel playing jaw harp on one track), followed by Air, Earth, Fire, Water (aka Elements) in 1970. They recorded two soundtracks, the first in 1970 for an animated film by Herbert Fuchs of Abelard and Heloise (which first saw release as part of Luca Ferrari's Necromancers of the Drifting West Sonic Book in 1997) and then in 1971 for Roman Polanski's film of Macbeth... (read more at Wikipedia)
Links to Peel
The Third Ear Band belonged to the "family" of musicians who came out of the British underground scene of the late 1960s, from the UFO Club (where the Giant Sun Trolley were regulars until founder member Dave Tomlin quit and the group evolved into the TEB) to Middle Earth and the London Arts Lab. Reportedly, Peel was involved in one of their more unusual gigs, when in early 1968 they, and 150 followers, attempted to levitate St. Pancras Station ([1] scroll down to April 1968). Shortly after, they played a benefit for Gandalf's Garden magazine at Middle Earth. Yet according to a mention in IT 45, Peel heard them for the first time in late 1968:
Recently there was a concert in Guildford in aid for a projected Arts Lab there at which I heard the Third Ear Band for the first time. Most of you probably heard them already but if you have not then try to do so soon.... [2]
Soon afterwards they did a session for Night Ride. They signed with Blackhill Enterprises, the management company which handled other Peel favourites such as Pink Floyd, Tyrannosaurus Rex, Roy Harper, the Edgar Broughton Band, Michael Chapman and Kevin Ayers and began to play at open-air festivals, including the 1969 Hyde Park free concerts headlined by Blind Faith and the Rolling Stones, and the Isle of Wight Festival of that year. Their first LP was released in May 1969; its packaging and the press interviews given by leader Glen Sweeney seemed to situate the band in the mystical scene which was an important influence on British hippiedom.
A second Peel session was broadcast on the Top Gear of 27 July 1969. A few days later the band were at Peel's flat, where they met cellist Ursula Smith, soon to join them. They also had a residence at another Peel venue of the era - the Boat Club, Nottingham. A second Top Gear session followed in June 1970 and a Sunday Concert in September. Another was broadcast in January 1971. Peel played excerpts for their 1972 album of soundtrack music from Roman Polanski's film "Macbeth". But the band was beginning to lose impetus amidst a wave of personnel changes and eventually split in 1974. Revived versions of the band in the late 1970s and 1980s did not attract Peel's interest.
Later, indeed, he seemed to regard them as one of the less enduring acts of their time; their first Top Gear session was soon after John Walters had become Peel's producer and to judge by their conversation in Peeling Back The Years one can infer that Walters was not entirely convinced by them, although he was less critical than Peel:
JW: Well, frankly, if we are talking about intolerable music, what about the other sorts of new music that I remember having to record and we had to listen to at that time? The Third Ear Band, for instance.
JP: Well, yes. I mean…
JW: It wasn't really intolerable; it was hypnotic.
JP: Yes, difficult to defend really in a way, except that I played jew's harp on one track on their debut LP, but that isn't the reason why they got on the programme. It was just that they again, I suppose, were the sort of band that turned up interminably at benefits and so forth, and when I went down to the various clubs, whether Pink Floyd or Arthur Brown or Hendrix and people were playing, the Third Ear Band would always be on the bill in some capacity, along with another band that we never did actually record, Exploding Galaxies or something… [3]
Festive Fifty Entries
Sessions
Four sessions. #2 released as Top Gear Session (27th July 1969) (digital EP, 2010, EMI UK)
1. Recorded 1968-12-31. First broadcast 01 January 1969. Repeated
The Grove /Stone Circle / Egyptian Book Of The Dead / Pierrot
2. Recorded 1969-07-21. First broadcast 27 July 1969. Repeated 21 September 1969.
Hyde Park Raga / Druid / Ghetto Raga
3. Recorded 1970-06-08. First broadcast 20 June 1970. Repeated
Downbone Raga / Feel Your Head / Hyde Park Raga
4. Recorded 1972-01-25. First broadcast 11 February 1972. Repeated
Live
Water
Eternity in D
Druid (One)
Other Shows Played
1969
1970
1972
04 April 1972: Inverness: Duncan's Arrival (LP – Music From Macbeth) Harvest
11 April 1972: Overture (LP – Music From Macbeth) Harvest
Other
See Also
External Links
Ghetto Raga Much of the above info is drawn from this excellent fan site