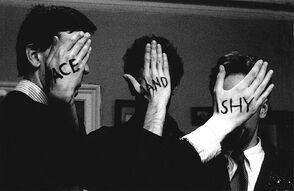 This Heat were an experimental post-punk band formed by Charles Heyward (formerly of Gong and Quiet Sun), Charles Bullen and Gareth Wiliams in 1976. With their roots in progressive music This Heat quickly developed into an experimental band using tape loops and avant-garde production techniques. Their eponymous 1979 debut album was characterized by heavy use of tape manipulation and looping combined with more traditional performance to create eerie, electronic soundscapes. Their second album Deceit (1981) was more directly influenced by punk rock, although also consolidated world music influences. The group dissolved in 1982.
Links to Peel
This Heat's first radio airplay came in early 1977 from John Peel, to whom they had sent a demo tape recorded in the top room at Hayward's parents' house in Camberwell. The group went on to record two sessions for the show in 1977.
Festive Fifty Entries
Sessions
Two sessions. Both available on Made Available (John Peel Sessions) (THESE 10 CD, 1996 - re-released 2006, This Is 4).
1. Recorded: 1977-03-28. First broadcast: 22 April 1977. Repeated 12 May 1977, 16 September 1986
The Fall Of Saigon / Not Waving But Drowning / Horizontal Hold
2. Recorded: 1977-10-26. First broadcast: 24 November 1977. Repeated 20 December 1977.
Makeshift / Rimp Romp Ramp / Sitting / Slither / Basement Boy
(NB The Keep It Peel website lists Horizontal Hold again in the second session tracklist although this is probably an error.)
Other Shows Played
External Links
Community content is available under
CC-BY-SA
unless otherwise noted.