The Thorndike Pickledish Choir was the alias name for Robert Oh Smith (27 November 1942 - 30 May 2010) who was an American radio DJ, who later on life did voice overs for animation films.
He released several singles in the late 60's under the Thorndike name, some spelt as Thorndyke and others with titles such as the Thorndike Pickledish Pacifist Choir.
None of Thorndike's records were commercial hits, but they did get played on certain American radio stations.
Links To Peel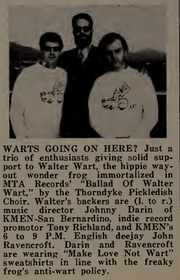 John along with Johnny Darin, music director of KMEN and Tony Richland, a record promoter, were fans of Thorndike's Ballad Of Walter Wart's single, where John and Johnny were photographed together with a sweatshirt promoting the record in the Cashbox magazine published on 11th March 1967.
Both were wearing 'Make Love Not Wart' sweatshirts, which was a reference to the lyrics of the song which mentioned Walter Wart carrying the "Make Love Not Wart" sign. 
Peel probably played the record on his KMEN shows, but there is no evidence so far of him playing the track in the UK on his radio programmes, according to available playlists. 
Shows Played
None according to current playlists, although he probably played it on his KMEN shows.
External Links