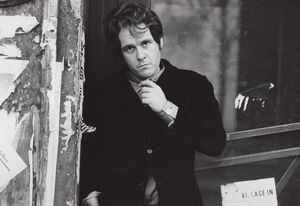 James Timothy "Tim" Hardin
(December 23, 1941 – December 29, 1980) was an American folk musician and composer. He wrote the Top 40 hit "If I Were a Carpenter", covered by, among others, Bobby Darin, Joan Baez, Johnny Cash, The Four Tops, Robert Plant, and Johnny Rivers; his song "Reason to Believe" has also been covered by many artists, notably
Rod Stewart
(who had a chart hit with the song) and The
Carpenters
. Hardin is also known for his own recording career (read more at
Wikipedia
).
Links to Peel
For a time in the late 1960s, Tim Hardin was considered one of the best songwriters of the era. This was largely due to the albums Tim Hardin 1 and Tim Hardin 2, released in 1966 and 1967 respectively and containing the songs for which he is still best known. Tracks from these appeared in the playlists of KMEN, when Peel was working at the station under the name John Ravencroft; they were also played on Radio London and Peel played tracks from Hardin's albums on the Perfumed Garden. As the Wikipedia article on Hardin shows, there were numerous cover versions of his songs, some by artists who were featured on Peel's shows, including The Nice, Chicken Shack, Rod Stewart and Billy Bragg.
Unfortunately, Tim Hardin was also addicted to heroin and gained a reputation for erratic and unreliable behaviour. When he visited the UK in 1968 he was suffering from pleurisy and reportedly fell asleep on stage at the Royal Albert Hall. He did manage to record a session for Top Gear, however, but when it was broadcast, Peel (who may have attended the session recording or the Albert Hall concert) remarked that Hardin was clearly "a very sick man". Nevertheless, after playing Rod Stewart' s cover version of "Reason To Believe" on the show of 24 July 1971, Peel urges his listeners to see Hardin - " a remarkable performer, on his day" - at the upcoming Lincoln Festival.
After Tim Hardin's death, Peel played 'Reason To Believe' on his programme on 12 January 1981 in tribute.
Festive Fifty Entries
Sessions
One session. No known commercial release.
1. Recorded 1978-07-15. First broadcast 28 July 1968
Reason To Believe / Don't Make Promises / Danville Dan / Hang On To A Dream
Other Shows Played
External Links
Community content is available under
CC-BY-SA
unless otherwise noted.