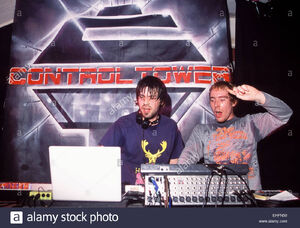 Tokyo Windbag are a UK electro-noise band: members are Chris Mackin and Subway Lung (also know as merely Lung on solo releases). They released the 7 inch 'Subway Lung/Gak - Klot' on the Control Tower label in late 2002 (in a limited release with a hand-sprayed sleeve), and contributed four tracks to a split 12" with Percy X on the Firewire label two years later.
Links to Peel
The single was selected by Peel for the November 2002 (Peel's Record Box): he tended to prefer the B-side, as was so often the case. On its first play, he described the track as "deeply strange". He speculated (erroneously) that they might be from Japan.
Festive Fifty Entries
Sessions
Other Shows Played
External Links
Community content is available under
CC-BY-SA
unless otherwise noted.