Obi-Wan Finale - The Loop
Play Sound
(This page is about Peel's son. For the British composer of the same name, see Thomas Ravenscroft).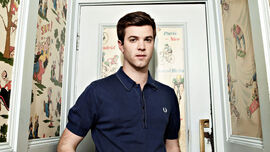 Thomas James Dalglish Ravenscroft (born 6th Feb 1980) the third of John Peel's four children, the eldest of two sons, and a radio presenter who currently hosts his own show on BBC Radio 6 Music.
Like his siblings, he went to Coombs Middle School and then on to university in Sheffield. Tom's middle name reflects his father's love of Liverpool football club. In later years, Peel's own shows occasionally featured one of 'Tom's Tips', brought to his attention by the young music fan.
Tom has also followed in his father's footsteps by branching out into journalism, writing a column for The Times and a blog for the magazine New Statesman. In one blog entry he expressed his enthusiasm for an artist who was one of his father's favourites, John Fahey.
He is married to Australian fashion designer Louise Markey [1] and the couple have two children.
Mentioned On Shows
The list comes from the database of this site and is incomplete. Please add further information if known.
1979
08 October 1979: Peel suggests that Briony might be a good name if the "impending Thomas" turns out to be a girl
1980
06 February 1980:  Mike Read fills in for Peel on tonight's programme. Peel is otherwise indisposed with the birth of his son Tom!
11 February 1980: Peel thanks senders of cards to welcome newly arrived son Thomas James Dalglish into the world.
1981
05 September 1981: Peel plays a track Trudge Away Quickl, a hymn written by Thomas Ravenscroft, who has the same name as his son Tom Ravenscroft.
1982
07 August 1982 : (JP: 'My real name isn't actually John Peel at all. This was wished on me quite a few years ago by a secretary working for the pirate radio ship Radio London, and I was desperate for work at the time, so I wasn't going to argue with them. If I'd have been there a few months earlier, I'd have been called Mark Roman, so I had a fairly narrow escape. So John Peel it was. My real name's John Ravenscroft, and in fact I've got a son called Thomas Ravenscroft, and this is a record of a piece by a Thomas Ravenscroft. Not my son, cos he's only two. This was written in the early 15th century.')
1986
1987
1988
15 August 1988: Peel dedicates a

Yello

track to his son, Tom, who fell from his bike whilst racing his dad who was in his car leaving Peel Acres.
20 August 1988 (BFBS): Peel dedicates a

Yello

record to his son, Thomas, who fell off his bicycle near his home.
1989
1990
1991
06 January 1991: (Link by Peel's son: 'This is Thomas. What's in tonight's programme, Daddy?')
19 May 1991: (JP: I was on round table earlier this week, on Friday, along with Peter Hooton, and Carol out of T'Pau, and also my son Tom made one or two contributions to the programme. The rest of us rather liked this next record, Tom wasn't too terrifically keen.) The record was the Orb - Perpetual Dawn.
1992
1993
1994
1995
09 June 1995: (JP: 'I have to admit, I feel rather nervous about this programme, because it comes to you live and direct from Peel Acres, and our studio isn't exactly soundproof, I have to admit: it's more of a prepared corner than a studio, so you may hear the occasional extraneous noise, like a car going by on the road outside, or dogs barking, or one of the children falling downstairs or something, or most likely of all, actually, our Tom playing happy hardcore in his bedroom at the other end of the house. But hopefully there won't be too many distractions for you...This isn't some kind of Noel Edmonds fantasy either, I want you to know that.')
23 June 1995: Son Tom turns up to introduce "Tom's Tip" but then leaves while it is being played. Tom's Tip was 

T-119

: The Bambam Track (LP - The New Sound Of The East Coast: Jungle USA)
05 August 1995 (BFBS): (JP: 'My son Tom told me a few months ago that the school where he goes in Stowmarket, all the graffiti on the walls isn't sort of Oasis or Pulp or anything, neither is it Take That, but all the graffiti is in favour of a chap named (DJ Slipmatt).')
1996
27 January 1996: (JP: 'Here's Tom's tip for this afternoon. Very fast says Tom. And he's right'. John then starts the record at 33 rpm rather than the correct speed of 45 rpm.) The record is 

Northern Connexion

: 'Reel Funk [Bennies Revenge] Remixed By Benny Blanco (12 inch – Remember Me)' 
23 February 1996:  (JP: 'And this is another Tom's tip.') The record is 

DJ Dano & Liza N Eliaz

: Starting Up (12 inch – Pawlow)
02 March 1996 (BFBS): (JP: 'Our Tom has been too busy recently to pick out any records for me to play on the radio in his Tom's Tip feature. Because he's just become 16 and has now got some kind of Kawasaki 50, and he and his mate Nick whizz about all over the area terrorising people on these things...but he did have time to listen to a couple of records, and chose this.) The record was

Dead Dred

: Come On Baby (12") Moving Shadow
1997
19 February 1997: 

Del Lagunas

: 'Exotic (7 inch)' (Sympathy For The Record Industry) (JP:'My son Thomas likes his music very very fast and very very loud, and although he didn't make this one one of his Tom's Tips because I didn't let him get his hands on it, because once they disappear into his bedroom, they often don't reappear for months, but I think he would approve of it.').
24 April 1997: Peel mentions Tom wanting the recipe for sausage rolls.
19 June 1997: (JP: 'This next one is for our Thomas, cause I think he would quite like this record. He passed his driving test yesterday at the first go, very impressive')
23 December 1997: (JP: 'I asked our son Thomas what his favourite record of the year was, and he said he hadn't heard a decent record for two years. But then to my surprise nominated this.') Ash: A Life Less Ordinary (CD single)
1998
14 July 1998: Peel mentions that his sons William and Tom were impressed with Xol Dog 400's performance at Meltdown, but thinks the audience should have done more than watching him perform. He goes on to say that Xol Dog 400's real name is Christian and thought he was a nice bloke.
20 August 1998: (JP: I hope that those of you who've been agonising over the past few days about A Level results, obviously I hope that you got the results you want. We have in our house, so there's a certain amount of celebration there ... very proud of our Tom, who actually exceeded his own expectations.")
1999
2000
20 September 2000: (JP: This next is a wonderful set and I have 3 copies of it and I am going to send one of them to our Tom at university and another to our William at home in the far north of England and it's a set called Ram Raiders Pt.1) 

Shimon & Moving Fusion

: Hangman (EP: (3 x12") Ram Raiders Pt.1)
November 2000 (FSK): Peel mentions his son Tom is keen on the Ryme Tyme track and his wife Sheila had to clean inside of the car after the pet puppy became sick from the vet.
2001
2002
31 January 2002: A track by

Tungsten & Morph

is dedicated to Tom, who had had dinner with his father before the programme.
21 May 2002: JP's son Tom has recommended the Universal Project track - 

Universal Project

: Vessel (single) Virus
21 November 2002: Tom had been to a Fall gig in Camden, London that evening. He phones home afterwards with his opinion of the night, which gets The Pig into trouble for swearing on air.
27 November 2002: Peel says that he had made the mistake of lending a record that he planned to play on the show to son Thomas, "which is a bit like burying it in a landfill site."
2003
22 January 2003: Peel mentions that Tom is currently in the south of France on some snow-related holiday.
06 February 2003: Peel reports that Tom is still in on holiday in France on this day, his 23rd birthday. Both his parents miss him.
Links
Wikipedia

A Short Film About Vinyl - You Need To Hear This-0