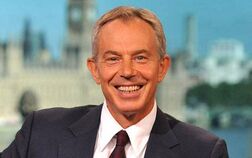 Anthony Charles Lynton Blair (born 6 May 1953), originally known as Anthony Blair, but later as Tony Blair, is a British Labour Party politician, who served as the Prime Minister of the United Kingdom (UK), from 1997 to 2007. From 1983 to 2007, Blair was the Member of Parliament (MP) for Sedgefield, and from 1994 to 2007, Blair was the Leader of the Labour Party in the House Of Commons. He now runs a consultancy business and performs charitable work.
Links To Peel
Blair was part founder and played guitar and sang in a rock band called Ugly Rumours while at Oxford in the early 1970s: the name came from a Grateful Dead album cover, and the band at one time featured Mark Ellen, who went on to present BBC TV's Whistle Test.
Peel voted for Blair in the 1997 General Election, but by 1998 was disillusioned with the government when Jack Straw's decision not to reopen the inquiry into the deaths of Liverpool fans at Hillsborough led to Peel to make a comment on the Independent newspaper:
"The Government seems to glory in not doing what they said they were going to do. I was jubilant when they were elected, but it's turned to despair." [1]
In addition, the involvement of Blair's government in war with Iraq in 1998 and 2003 did not gain Peel's enthusiasm:
"We bombed them, bombed them again and starved them for years... " [2]
In 2003 at a unknown convention, Peel mentioned how he felt he had been betrayed by Labour's policies:
"I speak as a man two elections ago was delirious with joy of a Labour victory and the last six years I feel so utterly betrayed". [3]
After Peel's death in 2004, Tony Blair paid tribute to the DJ by mentioning:
"He was a unique voice in British broadcasting and used that voice to unearth new talent and different subjects and make them accessible to a much wider audience." [4]
External Links
Community content is available under
CC-BY-SA
unless otherwise noted.