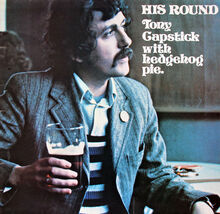 Joseph Anthony Capstick (27 July 1944 – 23 October 2003) was an English comedian, actor, musician and broadcaster. A regular performer on the folk circuit, he recorded many albums.
(Read more at Wikipedia.)
Links to Peel
In The Peel Sessions, Ken Garner includes Tony Capstick in his list of "Ten Acts Who You Never Would Have Believed Did A Peel Session, But Did, Honest" (p.272). However, as well as recording four Peel sessions in the first half of the 1970s, Tony Capstick was the presenter of Radio Two's show Folkweave, a programme that JP may well have listened to; it focused on the more traditional, grass-roots end of the folk scene, which began to get increased coverage on Peel shows in that period. Capstick hosted the show in a homely Yorkshire accent, and was one of the many Yorkshire artists to feature on Top Gear in that period - perhaps because the DJ had developed a soft spot for the county due to his marriage to Sheila Ravenscroft and his liking for her family.
Despite Wikipedia's claim that Capstick "recorded many albums", Discogs only lists four under his own name, recorded between 1971 and 1981. However he also appeared on a couple of compilation albums, including an LP of Ewan MacColl songs together with Dave Burland and Peel favourite Dick Gaughan.[1]
In addition, he made no. 3 in the UK singles charts in April 1981 with Capstick Comes Home, a droll parody of a famous commercial for Hovis bread - songwriting credits on the label are to Dvorak (the Czech classical composer whose music was used in the Hovis ad) and Capstick.[2] [3]
In his later career Tony Capstick became a TV character actor – and is probably the only Peel session artist to have appeared in Coronation Street, Emmerdale and Last Of The Summer Wine.[4]
In 1993, he interviewed Peel for his long-running show on BBC Radio Sheffield (see below).
Festive Fifty Entries
Sessions
Four sessions only. No known commercial release.
1. Recorded 1972-06-26. First broadcast 18 July 1972.
Sir Thomas Of Winesbury / I Drew My Ship Into A Harbour / Captain Grant / Foggy Dew / Bonny Bunch Of Roses
2. Recorded 1972-12-16. First broadcast 26 December 1972.
Charley / Punch And Judy Man / The Seeds Of Love / The Only Friend I Own
3. Recorded 1974-05-13. First broadcast 11 June 1974. Repeated 16 July 1974.
Lazlo Faher / Punch And Judy Man / McCafferty / Old Mollie Metcalf
4. Recorded: 1974-12-16. First broadcast 06 January 1975. Repeated 17 March 1975.
I Drew My Ship/ Van Dieman's Land / Weak Before Easter / Rambling Sailor / Hello Hans
Other Shows Played
1972
later
28 May 1993: (Peel's recent gig in Sheffield 'had been mentioned on local radio earlier in the week when I was interviewed by Tony Capstick. The reason I mention all this really is because it gives me the excuse to play a record that Tony Capstick made in 1974, as a feller who used to do sessions for this programme millions of years ago.')
- Laszlo Faher (LP - Punch & Judy Man )' (Rubber Records)
External Links
Community content is available under
CC-BY-SA
unless otherwise noted.