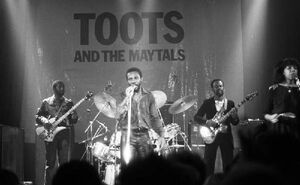 Toots and the Maytals, originally called The Maytals, were a Jamaican musical group, one of the best known ska and rocksteady vocal groups. The Maytals were formed in the early 1960s and were key figures in popularizing reggae music. Frontman Toots Hibbert's soulful vocal style has been compared to Otis Redding, and led him to be named by Rolling Stone as one of the 100 Greatest Singers. Their 1968 single "Do the Reggay" was the first song to use the word "reggae", naming the genre and introducing it to a global audience.
As Island Records founder Chris Blackwell says, "The Maytals were unlike anything else ... sensational, raw and dynamic."
Toots Hibbert died on September 12, 2020, at the University Hospital of the West Indies in Mona, Jamaica, due to complications of COVID-19.
Links to Peel
Toots and the Maytals were one of the acts, along with Bob Marley & The Wailers and Jimmy Cliff, whom Island Records boss Chris Blackwell thought would appeal to a wider audience than just regular reggae record-buyers[1]. Their album Funky Kingston was well-reviewed by some rock critics and their reputation began to grow, even if they didn't attain the superstar status of Bob Marley. Blackwell hired Joe Boyd to produce their follow-up LP, Reggae Got Soul.
The first track Peel played by them was their version of "Louie Louie", but to judge from the relatively small number of plays over they years, they didn't seem to be among his favourite reggae artists. JP played tracks from the group mostly in the late 70's and early 80's, both from their early period when they were called the Maytals and after they changed their name to Toots & The Maytals, as well as singer Toots Hibbert's collaboration with Anthony B in 2002.
Shows Played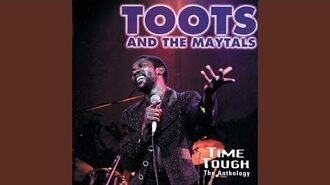 Maytals
Toots & The Maytals
Toots
Covered
(The list below was compiled only from the Cover Versions page of this site. Please add more information if known.)
Artist | Track | First Known Play
External Links
Community content is available under
CC-BY-SA
unless otherwise noted.