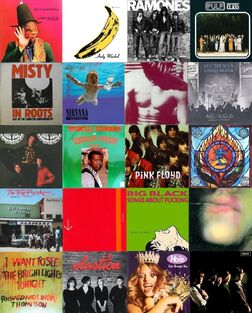 In 1997 the Guardian newspaper asked John Peel to list his top 20 albums. Although no such list could ever be definitive, the albums he chose from a cross-section of eras and genres do include many of the DJ's long-time favourites. One notable absentee is The Fall, who were presumably excluded from consideration.
In 2005, Guardian writer Jon Dennis dug out the list and analayzed what the records may have meant to Peel (read the article here). Although the albums are numbered in the article, it is not known if this indicates an order of preference. On other occasions, for example, Peel cited the Misty In Roots album as his favourite.
Ramones: The Ramones (1976)
Pulp: Different Class (1995)
Smiths: The Smiths (1984)
Neil Young: Arc Weld (1991)
Pink Floyd: Piper At The Gates Of Dawn (1967)
Dreadzone: Second Light (1995)
Four Brothers: Makorokoto (1988)
Dave Clarke: Dave Archive One (1996)
Big Black: Songs About Fucking (1987)
Hole: Live Through This (1994)
Rolling Stones: The Rolling Stones (1964)
External Links
Community content is available under
CC-BY-SA
unless otherwise noted.