The Tours were an English new wave/power pop band from Poole, Dorset, founded in the late 70's during the punk era. The band consisted of Richard Mazda, Ronnie Mayor, Steve Jeff and Mark Spiers. They were unusual because there were two songwriters and two lead singers, Richard Mazda singing his own songs and Ronnie Mayor singing his. Virgin, Polydor/Fiction, EMI, Sire and other record labels were interested in signing them and the band ultimately signed to Virgin, but in 1980, there was a dispute between the group, the record label and the band themselves, before the ensemble split and members went there own way.
Links to Peel
According to various internet sources, John Peel played the band's self-released "Language School" single for 50 consecutive nights on Radio 1 in 1979, declaring it at the time his second favourite single of all time behind the Undertones "Teenage Kicks". Although Language School was predominantly played by Peel, he also played their only other single, Tourist Information. Despite the band being short lived, Peel did revisit them after the 70's, especially in the early 00's, when he played their Language School song on his shows.
Shows Played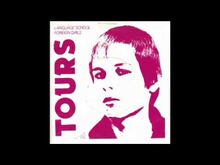 1979
1981
2000
2001
External Links
Community content is available under
CC-BY-SA
unless otherwise noted.