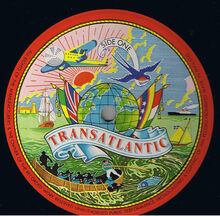 Transatlantic Records was a British independent record label. The company was established in 1961, primarily as an importer of American folk, blues and jazz records by many of the artists who influenced the burgeoning British folk and blues boom. Within a few years, the company had started recording British artists. The company's philosophy was intentionally eclectic.
The label was founded by Englishman Nat Joseph who started the company at the age of 21 after visiting the US and realizing that there was a wealth of music that was not being made available in the UK to British music fans. Transatlantic imported labels from the US.... The catalogue numbers often contained "TRA" within the prefix, thus MTRA, XTRA, and LTRA were all used. The latter prefix was used with a series of LPs produced by Bill Leader (who worked with Nat Joseph from the outset as an engineer)... The XTRA imprint was launched as a discount label to release recordings licensed from the American Folkways label and elsewhere.
With the advent of psychedelia and flower power the Transatlantic stable of artists achieved greater success, culminating in the formation of the supergroup Pentangle. Meanwhile, Transatlantic had been extending its eclecticism, recording such as the eccentric audio collageist Ron Geesin, and The Purple Gang, whose "Granny Takes A Trip" was banned by the BBC in 1967....Transatlantic released (the budget sampler LP) Listen Here! early in 1968...The record was designed to preview not only the forthcoming Pentangle double album, but solo records by members Bert Jansch and John Renbourn. Listen Here! also served to introduce a new group The Sallyangie, with siblings Mike and Sally Oldfield.
(Read more at Wikipedia)
Links To Peel
Peel probably became aware of the Transatlantic label after he returned to the UK in 1967. He mentions in the sleevenotes to the first Pentangle LP that he had first heard Bert Jansch's music at his brother's house, and went on to play the records of Jansch and fellow Transatlantic artist John Renbourn on the Perfumed Garden, as well as the Purple Gang's "Granny Takes A Trip", featuring John "Hoppy" Hopkins on piano, a "hippy marching song" and UFO Club favourite which had not been banned by Radio London.
Once Peel had established himself on Radio 1, Transatlantic records became a regular part of his playlists. The label was the nearest equivalent Britain had to America's Elektra Records, and although it never had big-selling artists on the scale of the Doors or Judy Collins, many acts who began by recording for Transatlantic, like Mike Oldfield, Ralph McTell, Gerry Rafferty and Bily Connolly, went on to bigger success elsewhere.
A wide range of Transatlantic recording artists did Peel sessions, from folk favourites Pentangle, Ralph McTell, the Johnstons and the Humblebums to rock bands like Stray and Skin Alley. In the late 1960s, the label also issued records Peel liked and played on his shows, but had been ignored by the main UK record companies. It issued the first LP by Ron Geesin in 1967. The first John Fahey LP to be released in Britain, The Transfiguration Of Blind Joe Death, appeared on Transatlantic in May 1968, followed by the Fugs' Tenderness Junction, a US release on Warner/Reprise but ignored by Pye Records, who at the time had an agreement to issue that label's catalogue in the UK. In the following year, Transatlantic put out a British release of the Mothers Of Invention's Uncle Meat, originally on Frank Zappa's own label.
In addition, Transatlantic distributed many of the smaller blues (Yazoo, Arhoolie, Blues Classics, Saydisc, Roots) and folk (Folkways, Trailer, Leader, Rubber, Village Thing) labels whose releases would appear in Peel's playlists throughout his long radio career. The label itself went into decline after Nathan Joseph sold it to the Granada Group in 1975, with its last notable signing being Alberto y Lost Trios Paranoias, who made two LPs for the label in 1976 and 1977. Transatlantic then changed its name to Logo Records, but when Castle Communications gained control of the Transatlantic catalogue in the 1990s, many of its best-known releases from the 1960s and 1970s were reissued on CD.
Sessions
The following artists who recorded for Transatlantic Records did sessions for Peel's shows:
Alberto y Lost Trios Paranoias (1 session, 1977)
Harvey Andrews (1 session, 1972)
Marc Brierley (1 session, 1968)
Circus (1 session, 1968)
Country Gazette (2 sessions, 1973-75)
Finbar & Eddie Furey (3 sessions, 1972-74) (Finbar Furey's first recording was a solo album of traditional Irish pipe music for the XTRA label in 1969)
Ron Geesin (7 sessions, 1968-76)
John James (1 session, 1968)
Stefan Grossman (1 session, 1968)
Humblebums (1 session, 1970)
Bert Jansch (1 solo session, 1968, plus 5 with Pentangle)
Johnstons (1 session, 1972)
Alexis Korner (1 session, 1969)
Ralph McTell (8 sessions, 1970-1976)
Mr Fox (2 sessions, 1970-71)
Na Fili (3 sessions, 1973-76)
Bob Pegg and Nick Strutt (1 session, 1973) (Pegg also did 2 sessions with Mr Fox)
Pentangle (5 sessions, 1968-69)
Duffy Power (1 session, 1973)
Gerry Rafferty (1 solo session, 1973, plus others with the Humblebums and Stealers Wheel)
John Renbourn (2 sessions, 1968; 1 with Jacqui McShee, 1 with Terry Cox. Plus 5 with McShee, Cox and the other members of Pentangle)
Sallyangie (1 session, 1968)
Skin Alley (1 session, 1969)
Stray (4 sessions, 1972-74)
Steve Tilston (1 session, 1971)
Unicorn (1 session, 1974)
Young Tradition (2 sessions, 1969)
External Links
Community content is available under
CC-BY-SA
unless otherwise noted.