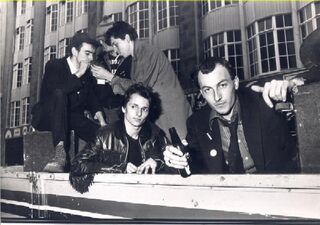 The
Transmitters
were a post-punk band active intermittently between 1978 and 1989 (they reformed for a reunion gig in 2007 to promote a compilation album). They released two LPs and three singles, and were notable for containing members of future groups: Sam Dodson and Dave Muddyman (
Loop Guru
), and Tim Whelan and Hammi Lee (
Transglobal Underground
). In the early part of their career, they were signed to Step Forward, making them label mates with the
Fall
. They recorded two Peel sessions two years apart, the second of which has yet to see a commercial release.
In a 1989 interview, Sam Dodson gave an overview of the band's musical philosophy:
"We were one of those groups that never fitted into any category. In '79 there were bands like The Pop Group and The Good Missionaries, and we felt a certain kinship to the way they worked. We were more organised than them, but we came up with a much less organised sound. Even now, we've been compared to Stump, to Talking Heads, and I think 'I don't like Stump, I don't like Talking Heads. Why am I doing this?' and I listen to what we're doing and I think 'I love it'. It's because it sounds different." [1]
The song Ferryboat Bill, a Velvet Underground cover, appeared on the Justice Is Our Conviction benefit album, and Dodson admitted, "John Peel played it; he probably hated everything else on it."
Festive Fifty Entries
Sessions
1. Recorded: 1979-10-30. First broadcast: 21 November 1979. Repeated: 06 February 1980.
Dirty Harry / I Fear No-One But My Friends / Bird In The House / Blankety Blank
2. Recorded: 1981-07-22. First broadcast: 29 July 1981. Repeated: 24 August 1981, 21 October 1981.
Joan Of Arc / Love Factory / Voodoo Woman In Death Plunge, The Rent Girls Are Coming / Dance Craze
Other Shows Played
External Links
Community content is available under
CC-BY-SA
unless otherwise noted.