Tresor (German for safe or vault) is an underground techno nightclub in Berlin and a record label.
The club was founded in March 1991 in the vaults of the former department store Wertheim at Leipziger Strasse 126-128 in Mitte, the central part of East Berlin, next to the Potsdamer Platz. The vaults proved to be the perfect location for a club, and Tresor quickly became the place to be in Berlin.
The record label Tresor Records was founded soon after the club first opened, in October 1991. Featured artists on the label include Jeff Mills, Blake Baxter, Juan Atkins, Robert Hood, Stewart Walker, Joey Beltram, DJ Surgeon, Pacou, Cristian Vogel and many others.
(Read more at Wikipedia).
Links To Peel
On 08 October 1998, the Peel show celebrated 100 releases on the Tresor label with a night of live DJ sets at Maida Vale by Tresor artists, spilling over into the Mary Anne Hobbs show. In Margrave Of The Marshes (hardback edition, p373), Sheila Ravenscroft wrote of the event:
"Until that point, techno acts hadn't been invited on the show, for the simple reason John and his producer Anita thought they would be too cool to accept. But the likes of Pacou, Tony Surgeon, Carl Regis, Tobias Schmidt and Neil Landstrumm were overjoyed to perform, and the session was revelatory. [...] John, for his part, was simply bowled over."
Peel was a longtime supporter of the label associated with the celebrated Berlin club, with numerous plays for its releases over many years, as well as sessions by its artists.[1] An important hub for German music, the label also featured many international artists, with especially strong links to Detroit.
Session Artists
(Sessions by artists with releases on Tresor, including when the artists were not on the label.)
Juan Atkins

: (1 session, 1998)
Si Begg (3 sessions, 1998-2003)

Clock DVA

: (1 session, 1983)

DJ Hell

: (1 session, 1995)

Holy Ghost

: (1 session, 1995)
Neil Landstrumm & Tobias Schmidt: (1 session, 1998)
Jeff Mills: (3 sessions, 1998-2003)

Pacou

: (1 session, 1998)

Regis

: (1 session, 1998)

James Ruskin

(& The Drop): (1 session, 1998)
Sender Berlin: (1 session, 2000)
Surgeon: (2 sessions, 1998-2000)
Cristian Vogel: (2 sessions, 1995-98)
Festive Fifty
No known entries by Tresor artists, perhaps reflecting listeners' longstanding preference for 'white boys with guitars'' (as bemoaned by Peel). Please add more information if known.
Compilations
(Plays by Peel of various artist releases on Tresor and related collections.)
(CD - The Techno Sound of Berlin (Berlin 1992 - A Tresor Kompilation)) NovaMute
(CD, 2xLP - Berlin 1992 - Tresor Kompilation - Der Klang Der Familie) NovaMute
22 August 1992:

Tanith

: The Return And Revenge Of The Gatorde (Tanith Mix)
(CD, 3x12" - Tresor II - Berlin & Detroit - A Techno Alliance) NovaMute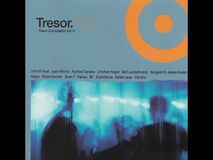 (CD, 2x12" - Tresor 100 (Tresor Compilation Vol. 6)) Tresor 100
(CD, 2x12" - Tresor Compilation Vol. 7) Tresor 123
(CD, 2xLP - Demo Tracks #01) Tresor 135
(CD - Annex 3) Tresor 136
(CD, 2xLP - Tresor.2000 Compilation Vol 8) Tresor 150
(CD - Annex 4) Tresor 180
(2x12" - True Spirit Part II) Tresor 186
(3xCD - True Spirit) Tresor 185
(CD - Tresor Never Sleeps) Tresor 205
(CD, 2x12" - Tresor Compilation Vol. 12 – Illumination) Tresor 212
See Also
Links