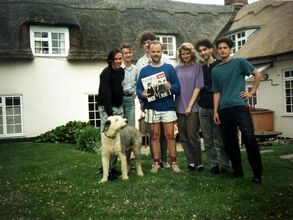 The Trial is the name of a synthpop band founded in 1988 in Beroun (Czechoslovakia at that time; now Czech Republic) by Karel Zýka, Thomas Brabec, Petr Carpenter, Michal Zýka, Mirek Voldřich, Libor Krejci, Sonia Skodova and John Matějová. Their music was very similar to the legacy of 80's electronic music espoused by the Human League and many others. The group took a hiatus in 1993 and since then have not performed or released any music.
Links To Peel
On his 03 June 1991 (Ö3) show, Peel described how he found out about the band:
"About three months ago, I got a letter and a record from a group in Prague. They were called the Trial, and they sent me a 7 inch single which I played on the radio here in Britain, and then thought no more about it really. I wrote them a postcard thanking them for sending me the record, and then last week I got a phone call from the Immigration people at Felixstowe, which is a harbour near to where I live, to say that six Czechoslovakians had turned up in two cars, and all they had were their passports and my postcard, and were coming to see me, which was a bit of a surprise. But as it turned out, they were extremely nice, and it is possible that they can hear this programme. So, if they're listening, you were very welcome here and will be very welcome again any time you wish to come.They left with me a copy of their LP which is called PICTURES and from it this is "Sky Of Secrets""
After playing their Sky Of Secrets track, Peel also mentioned how they left plenty of beer at Peel Acres:
 'And they left quite a quantity of Czechoslovak beer with us as well, which made them doubly welcome.'
Shows Played
1991
External Links
Community content is available under
CC-BY-SA
unless otherwise noted.