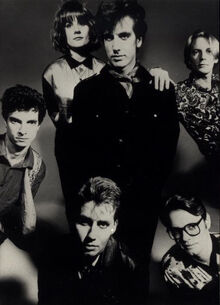 The Triffids were an Australian alternative rock and pop band, formed in Perth in Western Australia in May 1978 with David McComb as singer-songwriter, guitarist, bass guitarist and keyboardist. They achieved some success in Australia, but greater success in the UK and in Scandinavia in the 1980s before disbanding in 1989. SBS television featured their 1986 album, Born Sandy Devotional, on the Great Australian Albums series in 2007, and in 2010 it ranked 5th in the book The 100 Best Australian Albums by Toby Creswell, Craig Mathieson and John O'Donnell. The Australian Recording Industry Association (ARIA) recognised The Triffids' importance on 1 July 2008 when inducting them into the Hall of Fame. David McComb died on 2 February 1999 "due to heroin toxicity and mild acute rejection of his 1996 heart transplant", according to the coroner.
Links to Peel
Peel was aware of the group in 1984 when the band relocated themselves from Australia to the UK, which they gave themselves three months to make inroads. The group released some material in the UK, which gained positive critical reception and on his 04 December 1984 show, Peel claimed that after hearing their first session when broadcast, he went to Romford to see the band perform:
"After the last time that this Triffids session went out, I was so impressed that I travelled out to Romford to the Res to see the band live and would like to see them live again too before they go back to Australia. Perhaps you'll understand why after you've heard this."
The band did three sessions for Peel's show and he nominated their sessions for 1984 and 1985 as one of the best of the years, which he re-broadcast on his Festive Fifty shows.
Sessions
1. Recorded: 1984-11-06. Broadcast: 13 November 1984. Repeated: 04 December 1984, 26 December 1984, 23 January 1985
Bright Lights Big City / Monkey On My Back / Field Of Glass
2. Recorded: 1985-05-05. Broadcast: 14 May 1985. Repeated: 02 July 1985, 16 December 1985
Life Of Crime / Lonely Stretch / Chicken Killer
3. Recorded: 1986-05-20. Broadcast: 27 May 1986. Repeated: 10 June 1986, 22 February 1988
Kelly's Blues / Wide Open Road / Kathy Knows / Keep Your Eyes On The Hole
Other Shows Played
1985
1986
Stolen Property

13 May 1986: Branded (LP - Treeless Plain) Hot
02 July 1986: Chicken Killer (LP - Born Sandy Devotional) Hot (JP: 'Australia's finest, well one of Australia's finest)
02 July 1986 (VPRO): Stolen Property (LP - Born Sandy Devotional) Hot
15 July 1986: Lonely Stretch (album - Born Sandy Devotional) Hot
28 July 1986: Estuary Bed (LP - Born Sandy Devotional) Hot
05 August 1986: Stolen Property (LP - Born Sandy Devotional) Hot
02 October 1986 (BFBS): 'Everybody Has To Eat (LP-Raining Pleasure)' (Hot)
1987
1988
Bad News Always Reminds Me of You

06 January 1988: Bad News Always Reminds Me Of You (12" - Trick Of The Light) Island
09 February 1988: Good Morning Good Morning (v/a LP - Sgt. Pepper Knew My Father) New Musical Express
15 February 1988: Bad News Always Reminds Me Of You (10" - Trick Of The Light) Island
23 February 1988: Chicken Killer (12" - Peel Sessions) Strange Fruit
Peel Late 1988: Hanging Shed (album - Treeless Plain) Hot 
1990
1998
External Links
Community content is available under
CC-BY-SA
unless otherwise noted.