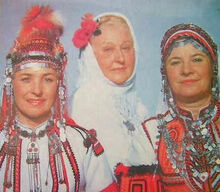 Trio Bulgarka (Bulgarian: Трио Българка; also known as "Three Golden Coins", previously known as "Bulgarka Folk Trio") is a Bulgarian vocal ensemble. They gained international prominence through their contributions to the groundbreaking 1975 world music album Balkana: The music of Bulgaria, originally released on the now defunct Hannibal label.
The trio comprises Stoyanka Boneva from Pirin, Yanka Rupkina from Strandja and Eva Georgieva from Dobroudja. Their diversity of regional backgrounds enabled them to create a unique sound to their music. They signed to record labels Bulgaria Balkanton and Hannibal in 1987. In 1988 their album The Forest Is Crying was released.
In 1989 they were featured on The Sensual World album by Kate Bush on the songs "Deeper Understanding", "Never Be Mine", and "Rocket's Tail". In 1993 they appeared on another Kate Bush album, The Red Shoes, in the songs "You're the One", "The Song of Solomon", and "Why Should I Love You?", which also featured Prince.
The trio have since concentrated on solo projects but often reform for concert appearances.
Links To Peel
Peel first heard the group through the Hannibal label in 1987 and played some of their music in the late 80's, especially after their session on Andy Kershaw's show. Trio Bulgarka's vocal talents were sampled by Belgium's Morton Sherman Bellucci in the late 80's during the popularity of Belgian's New Beat scene on a record called Musica by Bulgarka (the pseudonym name of Morton Sherman Bellucci used for the Bulgarian sample record), which got regularly played by Peel during that period and also in 1992 after he rediscovered the record.
Shows Played
1987
25 August 1987: Tregnale Malika Moma (v/a LP - Balkana: The Music Of Bulgaria) Hannibal
07 September 1987: Tri Bulbula Peiat (LP 'The Music Of Bulgaria') Hannibal
1988
16 May 1988: Taz Vecher Ne Mii Vessela [LP - The Forest Is Crying (Lament For Indje Voivode)] Hannibal
24 May 1988: Sedyankata Ye Na Razvala (The Working-Bee Is Over) (LP - The Forest Is Crying (Lament For Indje Voivode)) Hannibal
External Links
Community content is available under
CC-BY-SA
unless otherwise noted.