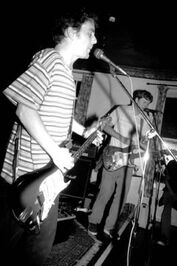 Trumans Water are an indie rock band from San Diego, California formed in 1991. They have released over a dozen albums over their career, on which they collaborated with acts in genre, including Azalia Snail, Chan Marshall and Thurston Moore. Trumans Water was formed by the brothers Kirk and Kevin Branstetter, and the original drummer Jeff Jones in San Diego in 1991, after they were given a guitar and a bass guitar by a friend's father. They advertised for a "lead singer, brain optional", and recruited Glen Galloway as a result. Other members of the band have included Ely Moyal, Andres Malinao and Kevin Cascell. (Read more at Wikipedia)
Links to Peel
Trumans Water was discovered by Peel when he played tracks from their 1992 self-released debut LP Of Thick Tum. So impressed with the album that he made an effort to try and interview the group on his 11 September 1992 show with mixed results, where at the beginning, he was not able to communicate with member Kevin Branstetter until a couple of minutes in. 
Festive Fifty Entries
Sessions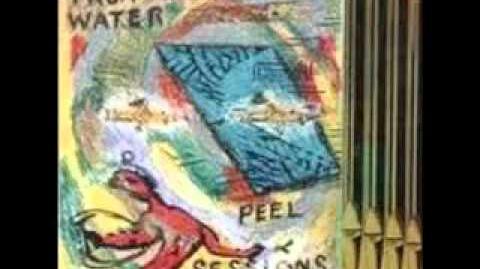 Three sessions. All tracks available on Peel Sessions (CD, 1995, Strange Fruit).
1. Recorded 1993-05-11. First broadcast 11 June 1993. Repeated 28 August 1993.
All Wet West Of Washington / Long End Of A Firearm / Large Organs / Seven Holes / Hair Junk Fiver
2. Recorded 1993-09-26. First broadcast 05 November 1993. Repeated 23 September 1994.
Death To Dead Things / Girler Too / Sun City Girls Song (aka Esoterica Of Abyssynia) / Nation Of Ulysses Song (aka Kingdom Of Heaven) / No Naked Lights / True Tilt Pinball
3. Recorded: 1994-05-10. First broadcast 17 June 1994. Repeated
Milk Train To Paydirt (aka Lick Observatory) / Go-Go Dancer Solidified / Electro Muerta / Talkin Hockey With Strangers / St Job (Int'l Gore)
Other Shows Played
1992
1993
1994
1995
15 April 1995: All Wet West Of Washington (CD-Peel Sessions) Strange Fruit
09 June 1995: Large Organs (CD-Peel Sessions) Strange Fruit
28 July 1995: Siski You Armiger (CD-Milktrain To Paydirt) Homestead
1996
1997
30 June 1997

: Unitraction Bath (CD-Milktrain To Paydirt) Homestead
1998
August 1998 (FSK): Water For A Thirsty City (CD - Fragments Of A Lucky Break) Emperor Jones
2003
November 2003 (FSK): Rock Of Gibraltar (CD - You Are In The Line Of Fire And They Are Shooting At You) Homesleep
Other
External Links