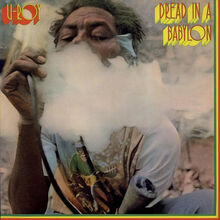 Ewart Beckford OD (born 21 September 1942), known by the stage name U-Roy, is a Jamaican vocalist and pioneer of toasting. U-Roy is noted for a melodic style of toasting applied with a highly developed sense of timing.
Beckford's first two singles released on Duke Reid's Treasure Isle label, "Wake the Town" (1970) and "Wear You to the Ball" (1970), were Jamaican hits and established his reputation as one of Jamaica's most popular toasters. Beckford then went on to work with other major producers on the island. 1971 saw the release of Beckford's DJ version of The Paragons' "The Tide Is High".
In 1975, the album Dread in a Babylon was released in the US, Europe and Jamaica by Virgin Records. The success of Dread in a Babylon led to a series of Tony Robinson produced albums: "Natty Rebel" (1976), "Rasta Ambassador "(1977) and "Jah Son of Africa" (1978).
(Read more at Wikipedia.)
Links to Peel
Discussing his selection of a Big Youth single for his Record Box from John Peel's record collection, DJ and filmmaker Don Letts ranked U-Roy as one of the "mighty three" reggae toasters, alongside Big Youth and I-Roy, seen as influential in the later development of rap in the US.[1]
In 2001, Letts had included early U-Roy hit "Wear You To The Ball" in his "Dread Meets Punk Rockers Uptown" compilation of reggae he had played as DJ at London's Roxy club, where Peel attended gigs in the early punk era.[2] [3]
Peel featured U-Roy regularly down the decades, focusing in later years on classic early material, including tracks with "the Kenny Dalglish of reggae", Lee Perry.
Festive Fifty Entries
Sessions
Other Shows Played
1970s
1980s
1990s
2000s
See Also
External Links
Community content is available under
CC-BY-SA
unless otherwise noted.