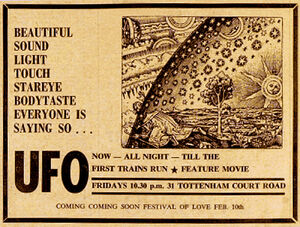 The UFO Club (pronounced "you-foe") was a short-lived part of the British counter-culture scene in London during the 1960s. The club was established by Joe Boyd and John "Hoppy" Hopkins and featured light shows, poetry readings, well-known rock acts such as Jimi Hendrix, avant-garde art by Yoko Ono, as well as local house bands such as Pink Floyd, and Soft Machine.
The UFO Club was founded by John Hopkins (usually known as "Hoppy") and Joe Boyd in an Irish dancehall called the "Blarney Club" in the basement of 31 Tottenham Court Road, under the Gala Berkeley Cinema. It opened on 23 December 1966. Initially the club was advertised as "UFO Presents Nite Tripper". This had been because Boyd and Hopkins could not decide on "UFO" or "Nite Tripper" as a name for their club. Eventually they settled on "UFO".
(read more on wikipedia)
Links to Peel
Most pop histories which deal with the year 1967 mention the UFO club, which opened shortly before Peel returned to the UK and closed in autumn 1967. In an interview with Red Bull Academy in April 1999, Peel spoke about his memories of the club:
"The only time I took acid deliberately was at UFO because I felt I was kind of safe and I'd be kind of okay. It wasn't like clubbing these days. Rather than dancing around, you... obviously some people danced about in a fairly idiotic manner… but mostly you just lay on the floor and passed out really. [laughter] It sounds like fun, doesn't it? It was okay. You'd get people like the Soft Machine and Arthur Brown, Pink Floyd and so on playing there. I think anybody, at any stage of their life, it's important for them, particularly if they come from a solitary background, it's quite nice to go somewhere where you feel that the other people there have essentially the same interests as you do. That's what I felt about UFO." [1]
In the same interview he mentioned not remembering whether he did gigs there, but this may have been an example of his imperfect memory. He was still a relatively unknown pirate radio DJ in early 1967, and attended UFO as a paying member of the audience, during his periods of shore leave from
Radio London.
He did mention it from time to time on the
Perfumed Garden
, for example on
12 July 1967 (Transcript)
when he described seeing a group of
Liverpool
musicians and poets there (the "Liverpool Love Festival" on June 23) and was disappointed at the cool reception they received from the audience. On the same show he played "Granny Takes A Trip", by the
Purple Gang
, featuring
John "Hoppy" Hopkins
on piano, and called it
"a little UFO music"
. JP also met
Mick Farren
and the Firm (see
Glossary
) there and mentioned them on the air..
By the time Peel started to work for Radio 1 in October 1967, UFO's heyday was over - despite the aura which surrounded it in later years, the club faced serious problems once its founder John "Hoppy" Hopkins had been jailed, and didn't last very long. (Having lost its original premises, it moved to the Roundhouse, and Joe Boyd was accused of commercialising the UFO idea by some elements of the underground community.) Peel did however do gigs for the club which succeeded UFO as the main centre for the underground - Middle Earth - but said that somehow it wasn't quite as good a club as UFO.
External Links
Community content is available under
CC-BY-SA
unless otherwise noted.