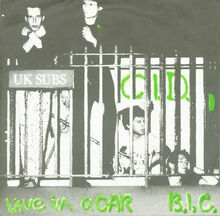 The U.K. Subs were part of the original punk movement in England, forming in 1976, initially using the name the Subversives. Founder Charlie Harper selected guitarist Nicky Garratt, bassist Paul Slack, and various drummers (eventually with Pete Davies became fairly stable). Their style combined the energy of punk and the rock and roll edge of the then-thriving pub rock scene. The band had hit singles such as "Stranglehold", "Warhead", "Teenage", and "Tomorrow's Girls", with several of their songs managing to enter the Top 40 of the UK Singles Chart.[1]
The band played several John Peel sessions for BBC Radio 1, played some opening gigs for The Police in 1978, and recorded a set at The Roxy (a punk club), which was issued in 1980 as Live Kicks. They signed a recording contract with GEM Records in May 1979. Under GEM, the U.K. Subs recorded their most successful studio albums, 'Another Kind of Blues' and 'Brand New Age'. Their biggest selling album came with 1980's 'Crash Course', recorded at the Rainbow Theatre in London on 30 May 1980 during the Brand New Age tour.
(Read more at Wikipedia.)
Links To Peel
In 1978, Peel interviewed UK Subs for the BBC TV Omnibus documentary The Record Machine. Although Charlie Harper claimed to the DJ that the band were happy to "carry on as we are", with the City independent label, despite the prospect of being poor for two years, UK Subs would soon hook up with GEM records, aligned with RCA, leading to a measure of mainstream chart success.
After playing debut single 'CID' on City, Peel initially continued to support the band after the label change, with three sessions in around a year from May 1978. The final Maida Vale set was repeated on multiple occasions, in response to listener requests[2], including as a best of year selection at the end of 1979.[3]
By the following spring, however, Peel was already voicing concern about the long-term direction of the UK Subs. After playing 'Barbie's Dead' from the 'Brand New Age' LP, he commented:
"One wonders what the band's going to do next, in a way, because if they carry on like this, they'll start to border on self-parody."[4]
The UK Subs subsequently appeared far less often on Peel's show, although they became an influence on later outfits he championed such as the Stupids, whose cover of 'You Don't Belong' was given airtime by the DJ.
In 2012, six UK Subs LPs were among the first 100 albums by artists beginning with U when details of Peel's record collection were first made available online.[5]
Festive Fifty Entries
Sessions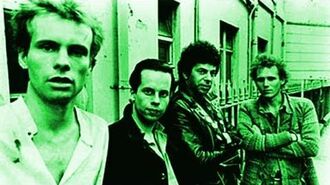 Three sessions. All available on Peel Sessions 1978-79, 1997, LP / CD (Fallout).
1. Recorded: 1978-05-23. First broadcast 31 May 1978. Repeated 28 April 1980.
I Couldn't Be You / Tomorrow's Girls / Disease / C.I.D / Stranglehold
2. Recorded 1978-09-06. First broadcast 15 September 1978. Repeated 11 October 1978.
World War / TV Blues / Another Kind Of Blues / All I Wanna Know / Totters
3. Recorded 1979-06-19. First broadcast 28 June 1979. Repeated 23 July 1979, 16 August 1979, 27 December 1979
Killer / Crash Course / Lady Esquire / I.O.D. / Emotional Blackmail
Other Shows Played
1978
1979
1980
1981
1982
See Also
External Links