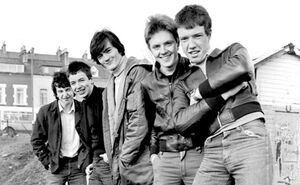 The Undertones are a punk rock/New Wave band formed in Derry, Northern Ireland, in 1975. From 1975 to 1983, the Undertones originally consisted of Feargal Sharkey (lead vocals), John O'Neill (rhythm guitar, backing vocals), Damian O'Neill (lead guitar, backing vocals), Michael Bradley (bass guitar, backing vocals) and Billy Doherty (drums). Although much of the earlier Undertones material drew influence from punk rock and new wave, the Undertones also incorporated elements of rock, glam rock and post-punk into material released after 1979, before citing soul and Motown as the influence for the material released on their final album. The Undertones released thirteen singles and four studio albums between 1978 and 1983 before Sharkey announced his intention to leave the band in May 1983, citing musical differences as the reason for the break up. The group had been set to reform to play at Peel's 50th birthday party in August 1989, but had to cancel due to a family bereavement.
In November 1999, the Undertones reformed but upon Sharkey declining, they replaced Sharkey with fellow Derry native, Paul McLoone who in addition to being the group's new and permanent frontman is also a DJ with the Irish national and independent radio station, Today FM.
The Undertones are still together to this day, often performing gigs all over the world with McLoone serving as the current frontman.
They also remain the most successful band to have emerged from Derry and also one of the most successful bands to have emerged from Northern Ireland.
Links To Peel
Peel mentioned on his 17 May 1978 show getting a phone call from a band called the Undertones who were from Northern Ireland and mentioned that they were going to send him a tape. After receiving and hearing the tape, Peel immediately liked the band. He was such a fan of the group, that he played their song Teenage Kicks twice in one show in 1978 [1].
On 22 January 1979 the band joined Peel in the studio during his programme, having just recorded a session for the show at Maida Vale.
He also made a TV documentary in 2001 on the band called The Story Of The Undertones: Teenage Kicks.
Members of the band including Feargal Sharkey attended John Peel's funeral in 2004 and the song Teenage Kicks was played during the ceremony.
Festive Fifty Entries
Get Over You (1979, #12; 1980, #17; 1981, # 20; 1982 all-time, #36)
Jimmy Jimmy (1979, #31)
Oh Please (2003, #22)
Teenage Kicks (1978, #10; 1979, #2; 1980, #7; 1981, #6; 1982 all-time, #8; 2000 all-time, #2)
Thrill Me (2003, #4)
You've Got My Number (1979, #29)
Peelenium
Sessions
1. Recorded 1978-10-01. First broadcast 16 October 1978. Repeated 11 January 1979 [1], 20 January 1997 (John Peel's Classic Sessions)
Get Over You / Top 20 / She Can Only Say No / Male Model
2. Recorded 1979-01-22. First broadcast 05 February 1979. Repeated 19 February 1979, 29 August 1979, 10 April 1985.
Listening In / Family Entertainment / Billy's Third / Here Comes The Summer
3. 1979-05-07. First broadcast 11 June 1979. Repeated 26 June 1979.
Nine Times Out Of Ten / The Way Girls Talk / Whiz Kids / Top 20
4. Recorded 1980-01-21. First broadcast 23 January 1980. Repeated 11 February 1980 / 10 March 1980, 24 December 1980
Girls That Don't Talk / Tearproof / What's With Terry? / Rock 'n' Roll
5. Recorded 1980-11-16. First broadcast 09 December 1980. Repeated 01 April 1981
The Positive Touch / You're Welcome / When Saturday Comes
6. Recorded 1982-11-08. First broadcast 07 December 1982. Repeated ?
Untouchable / The Love Parade / Luxury / The Sin Of Pride
7. Recorded 2003-05-14. First broadcast 14 May 2003. Repeated ?
Everything But You / Thrill Me / I Need Your Love The Way It Used To Be / Girl Like You
Featured in shows
(The list below is incomplete. Please add further details if known.)
1978
1979
1980
1981
1982
1983
1984
1985
1986
1987
1988
1989
1991
1992
1993
1994
1995
20 May 1995: Teenage Kicks (7 inch) Sire Records Company (JP: '17 years on and I still get a lump in me throat every time I play that.')
1996
24 June 1996: Family Entertainment (session) (John Peel's Classic Sessions)
10 October 1996 (BFBS): 'Teenage Kicks (7")' (Good Vibrations) (JP: 'Still get a lump in me throat every time I hear that, you know...The Pig has promised that it'll be played at my funeral: let's hope that isn't too soon, although I must admit with this cold, I feel as though it could come within the next few minutes. Well, next week or so anyway.')
1997
1998
1999
2000
2001
2002
2003
2004
Other
See Also
Links
Footnotes
↑ This is the date as stated in The Peel Sessions: however, the audio evidence tends to gainsay this.