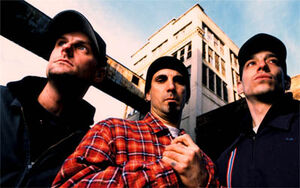 Unsane
are an influential noise rock trio that formed in New York City in 1988. Their music also touches on elements of hardcore punk and metal. In 1988, singer/guitarist Chris Spencer, bass guitarist Pete Shore and drummer Charlie Ondras were students at Sarah Lawrence College when they formed as Lawn-Chair-Blisters before changing their name to Unsane. Released in 1991, the band's self-titled debut album was known for its harsh music and gruesome cover art, featuring a photo of a decapitated man on a New York city subway track … (read more at
Wikipedia
.)
Links to Peel
Peel was an enthusiastic supporter of the band from their first single, released under the name Unsane NYC. Returning to it on 20 April 2004, he described the record as "a classic ... we played to death in 1989".
The band's first album also received heavy airplay, with five tracks featured on 14 December 1991, while their first session was repeated three times, including on 11 July 1992 to mark the death of original drummer Charlie Ondras. The release of the band's Peel Sessions CD apparently followed direct requests to Strange Fruit by the DJ.[1]
Festive Fifty Entries
Sessions
Three sessions. #1 and #2 available on The Peel Sessions (CD, 1993 / 1994, Strange Fruit SFRCD123 / Matador OLE 074-2)
1. Recorded: 1991-05-21. First broadcast: 14 July 1991. Repeated: 14 September 1991; 28 December 1991 (best sessions of year) (JP: "I hope we won't be more than ankle-deep in 1992 before the Unsane LP becomes available generally."); 11 July 1992 (tribute to Charlie [Ondras] the band's drummer, who had died recently.) (JP: 'I've mentioned it to them before actually, but I will try again, very seriously, to get Strange Fruit to put that out.')
Organ Donor/ Bath / Street Sweeper / Jungle Music / Exterminator
2. Recorded: 1992-11-26. First broadcast: 15 January 1993. Repeated: 23 April 1993, Best Of Peel Vol 57
Broke / Body Bomb / HLL / Black Book (Vol II)
3. Recorded: 1994-06-07. First broadcast: 30 July 1994. Repeated:
Trench / S O S / Blew / Radio 1 (JP: '...when I first broadcast the original on Top Gear, I never imagined that I'd be playing a cover of it 27 years later'.) / Speak English
Other Shows Played
(The following list was compiled only from the database of this site and Lorcan's Tracklistings Archive. Please add more information if known.)
1989
1990
1991
1992
1993
1994
1995
1996
1998
05 August 1998: Over Me (LP - Solid: Strip Mining The Underground Since 1990) Relapse
12 August 1998: This Plan (CD - Occupational Hazard) Lockjaw
2004
External Links
Community content is available under
CC-BY-SA
unless otherwise noted.