About me
In the 1970s I was vaguely aware of the name John Peel from the radio listings at the back of the Scotsman newspaper. It was only when I got my first clock radio at the age of 15 that I was able to tune in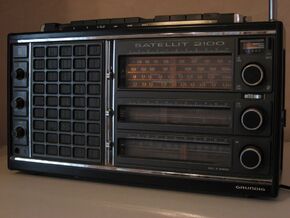 to the programme. Needless to say the sound quality from such a device did not really do justice to the show, and it was only when I upgraded to a Grundig Satellit shortwave radio with a 7W amp and 2-way speaker (left) that I really came to appreciate the deep sounds of dub and reggae and the novelty of hearing crashing cymbals in the clarity of FM (or VHF as it was better known then). Most of Radio 1's output was in muddy MW/AM at the time so top marks to whoever successfully kicked Radio 2 off the frequency for those last two precious hours of the evening! It's a real pity that the Evening Show didn't also benefit from FM, and I always grudged that the middle-aged Radio 2 which was mostly talk and classics got first shout when it could have been argued that the style of music and listeners would not notice the difference between AM and FM anyway.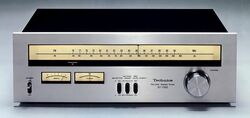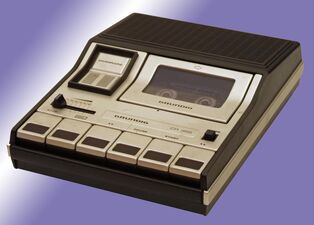 It wasn't until 1982 that I actually had a means of recording the shows and this was on a mono portable attached to the radio, pictured below left. In my student days I relied on snap judgements to hit the record button in time to catch a track, though when I was home at weekends and out of term time I had the luxury of being able to record higher quality sounds on my dad's separates system, a Technics ST-7300 Analogue tuner (right) connected to a Dual C814 cassette deck.
In 1988 I started recording entire shows when I was working on night shifts, using a stereo Philips VR 6870 hifi video recorder attached to a new Denon TU-210 tuner. The sound quality was so much better than I had achieved on my cassette decks, and a 3-hour tape could record 6 hours of audio with no apparent loss of quality. This recording method was then used to create my mixtapes but with a greater facility to go back to the start of a track that I decided I liked half way through!

I therefore amassed a large selection of tapes of tracks and sessions from around 1982 onwards. Each one of these is like a microcosm of a Peel show, with dub tracks segueing sharply into thrash into minimalist dance. I just wish that I had had unlimited funds and tapes to record and keep all the shows! Of course my enthusiasm for the music John played translated into spending a large proportion of my student funds on records and the loft rafters are now creaking with the results.
It is probably a bit of a cliché to state that JP completely transformed my musical tastes and indeed enriched my life in a big way and I was devastated by the news of his death in 2004.
For one reason or another I never managed to catch as many of his post 2000 shows as I would have liked, but the discovery of the JP internet community, and of the Wiki in particular, has allowed me to catch up at my leisure. It also appeals to what JP would have witheringly described as my "completist" tendencies!
I was one of the 400 Box rippers, though with that project (almost) complete I then moved on to the SL Tapes and also helped and encouraged other Mailing List and Wiki users share their tapes, such as Karl, Isector, Eddie from Berlin and Lee. The Ed B tapes, the Rich 200 collection and the Stewart Tapes I digitised singlehandedly, before moving on to the latter half of the Derby Box. When that was complete I took over and completed the stalled SL Tapes project. Following that came the RF Sessions and the KevH Tapes. I followed this with the Gumtree Tapes and then my largest project to date, the Lee Tapes. The Mystery Box I have no idea how I acquired but this was much smaller and soon finished. My most recent completed projects were the JG Tapes and the JS Tapes.
I have also digitised and shared my own collection of mixtapes and the odd complete show. These can be found at Weatherman22's Tapes.
My current ripping kit consists of 2 Nakamichi BX-300s and a back-up low mileage Denon DRM-555. The 3-head Nakamichis are very good at getting the best out of tapes recorded on other decks, with an easily adjustable azimuth and playback speed, and are ideal for tapes renowned for deteriorating pressure pads (some old Memorex for example) as they don't require them for playback.
I rip into Audacity either using a Sound Blaster X-Fi Xtreme Music sound card or a Creative Sound Blaster Z, digitising to 320kbps mp3 and flac, also keeping the original Audacity files. This has necessitated the collection of about 30Tb of storage!
My contributions
Artist Pages Created
Collections digitised
My favorite pages
Bands Peel played that I have seen live