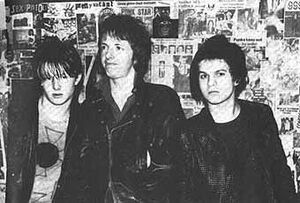 The Users were a punk rock band formed in Cambridge, England, that was active between 1977 and 1979. In 1977, Cambridge record dealer Lee Wood founded Raw Records, and quickly recorded The Users in March of the year, releasing the single "Sick of You" / "(I'm) In Love With Today" on May 5, 1977. Sounds magazine stated that it "burns into your brain without compromise." Despite only releasing two singles and being active for less than three years, the band developed a lasting cult following with Jello Biafra of Dead Kennedys citing the single as one of his favorite singles in terms of production when his band recorded 1980's Fresh Fruit for Rotting Vegetables.
Links to Peel
Peel placed their first single "Sick of You" in his chosen Festive Fifty chart of 1977, and after his death it was revealed that he'd kept two copies of their singles as part of his Record Box, a collection of 142 singles, that he would take if there was a fire at his home.
Festive Fifty Entries
Shows Played
1988
1999
2001
External Links
Community content is available under
CC-BY-SA
unless otherwise noted.