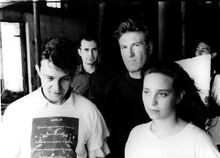 Uzeda are an Italian underground rock group, active since 1987. The band was formed by guitarist Ago­sti­no Tilotta, his wife Gio­van­na Cac­cio­la on vocals, bass player Raf­fae­le Gu­li­sa­no and Da­vi­de Oli­ve­ri on drums. A second guitarist Giovanni Nicosia left the group after their second album was released. Uzeda remained faithful to their indie label A V Arts for their first two albums before signing to the American Touch and Go records. Since their initial success, group members have maintained their "freedom to perform when and how they like" claiming that music cannot be reduced to "a salary". 30th anniversary gigs were played in Italy in May 2018.[1]
The group's name is taken from 'Porta Uzeda', a Baroque city gate located in their native Catania, Sicily.[2]
Links to Peel
Peel probably came to hear the band via their connection with Steve Albini who produced their second album Waters, to which the DJ took a liking. Along with PFM, they were the only Italian band to have recorded sessions for the show, both recorded in 1994. Only the first of the two sessions has had an official release.
In March 1994 Peel had incorrectly stated that Uzeda would be the first Italian band to record a session for him, although the first had been PFM back in 1973. Listeners were quick to correct him, for which Peel blamed Ken Garner's "wretched book".[3]
Sessions
1. Recorded: 1994-05-08. First Broadcast: 11 June 1994
It Happened There / Well Paid / Higher Than Me / Save My Shakes / Spread / Slow
2.Recorded: 1994-11-06. First broadcast: 16 December 1994
Surrounded / Sleep Deeper / Right Seeds / Needle House
Other shows played
UZEDA - NEEDLE HOUSE (live Porto di Catania 18-06-1995)

04 March 1994: Needle House (CD Waters, AV Records)
05 March 1994: It Happened There (CD Waters, AV Records)
18 March 1994: Save My Snakes (CD Waters, AV Records)
25 March 1994: Pushing All The Clouds (CD Waters, AV Records)
02 April 1994 (BFBS): Pushing All The Clouds (CD Waters, AV Records)
02 April 1994 (BBC World Service): Save My Snakes (CD Waters, AV Records)
21 May 1994 (BFBS): Tied (CD Waters, AV Records)
06 May 1994: Tied (CD Waters, AV Records)
11 June 1994: It Happened There (session #1)
28 October 1994: Higher Than Me (EP - The Peel Sessions, Strange Fruit SFPSCD090)
04 November 1994: Well Paid (EP - The Peel Sessions, Stange Fruit)
External links