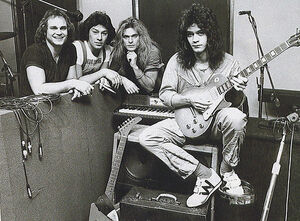 Van Halen is an American hard rock band formed in Pasadena, California in 1972. From 1974 until 1985, Van Halen consisted of Eddie Van Halen; Eddie's brother, drummer Alex Van Halen; vocalist David Lee Roth; and bassist Michael Anthony. Upon its release, the band's self-titled debut album reached No. 19 on the Billboard pop music charts. By the early 1980s, Van Halen was one of the most successful rock acts of the time. The album 1984 was a hit; its lead single, "Jump", is the band's only U.S. number one single to date and was internationally known.
In 1985, Van Halen replaced Roth with former Montrose lead vocalist Sammy Hagar. With Hagar, the group released four U.S. number-one albums over the course of 11 years. Hagar left the band in 1996 shortly before the release of the band's first greatest hits collection, Best Of – Volume I. Former Extreme frontman Gary Cherone replaced Hagar, remaining with the band until 1999; Van Halen then went on hiatus until reuniting with Hagar for a worldwide tour in 2003. Hagar again left Van Halen in 2005; in 2006, Roth returned as lead vocalist. Anthony was fired from the band in 2006 and was replaced on bass guitar by Wolfgang Van Halen, Eddie's son.
In October 2020, Eddie's son, Wolfgang Van Halen, revealed that his father, Eddie Van Halen died of cancer at the age of 65.
Links to Peel
Peel had some of Van Halen's albums in his Record Collection: V, and it is not known whether he played any tracks from it on his shows, although on his 08 May 1980 programme, he mentioned that he's not looking forward to the Pink Pop Festival in the Netherlands, because he has to sit through two hours of Van Halen.
Shows Played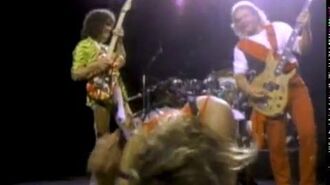 None according to available track listing documentation.
Top Of The Pops
External Links
Community content is available under
CC-BY-SA
unless otherwise noted.