"A short man with a face like a member of the post-war Labour Government, all unforgiving eyes and down-turned mouth, radiating solemn purpose." [1]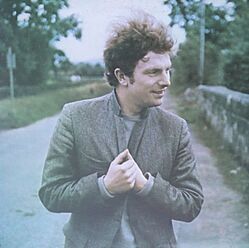 Sir George Ivan "Van" Morrison, OBE (born 31 August 1945) is a Northern Irish singer-songwriter and musician. Known as "Van the Man" to his fans, Morrison started his professional career when, as a teenager in the late 1950s, he played a variety of instruments including guitar, harmonica, keyboards and saxophone for various Irish showbands covering the popular hits of the day. He rose to prominence in the mid-1960s as the lead singer of the Northern Irish R&B band Them. His solo career began under the pop-hit oriented guidance of Bert Berns with the release of the hit single "Brown Eyed Girl" in 1967. After Berns' death, Warner Bros. Records bought out his contract and allowed him three sessions to record Astral Weeks in 1968. Even though this album would gradually garner high praise, it was initially a poor seller; however, the next one, Moondance, established Morrison as a major artist, and throughout the 1970s he built on his reputation with a series of critically acclaimed albums and live performances. Morrison continues to record and tour, producing albums and live performances that sell well, sometimes collaborating with other artists, such as Georgie Fame and The Chieftains. In 2008 he performed Astral Weeks live for the first time since 1968.
Links To Peel
Peel knew of Van Morrison's old band Them in the 1960s, when he was living in the USA. Their singles "Here Comes The NIght" and "Mystic Eyes" were both US chart hits, and the DJ saw Them perform in 1966 at the Whiskey A-Go-Go in Hollywood, along with support act Captain Beefheart. However Peel was more eager to see the latter when interviewed in 1987 for Peeling Back The Years 2 (Transcript):
"I went to see Them playing at the Whisky A Go-Go on the Sunset Strip. And Van Morrison was still with them I think at that time. But the main reason I'd gone was to see the support band"
Throughout the late 60's and 70's, Peel would often play solo tracks from Van Morrison on his show. One of the first of these was the ungrammatically-titled "He Ain't Give You None", from the singer's Blowin' Your Mind LP, played on an early Top Gear (no recording is available at present). Peel drily introduced it as "the sad tale of a man who failed his English O-Level".' In July 1973, he attended Morrison's concert, with his Caledonia Soul Orchestra, at London's Rainbow Theatre, which he later recalled as one of his favourite gigs, adding that his appreciation was enhanced by the attractiveness of the female viola player in Morrison's band.
In the Sounds music newspaper in 1974, Peel proclaimed Van Morrison's Veedon Fleece as one of his 1974 Top Ten Albums. Many of his listeners voted Madame George among their Festive Fifty favourites in 1976 and 1978 - although it was Peel's Radio 1 colleague Pete Drummond who had played it first in 1969, on his weekend show. (Indeed, Morrison was not just a Peel favourite; he was admired by most of the other Sounds Of The Seventies DJs, who frequently played tracks by him.) In the 80's, Peel rarely played Morrison's later material, although some of his Radio 1 colleagues, like Bob Harris and Johnnie Walker, continued to do so. Morrison's songs became more AOR as the decade developed, and further away from his traditional blues and garage rock roots, which were more to Peel's taste. At the end of the 90's, Morrison collaborated with one of Peel's favourite singers Lonnie Donegan to produce Muleskinner Blues, of which the DJ on 07 January 1999 proclaimed: "I never imagined I'd hear such a thing". But Morrison, like Peel, had been a Donegan fan during the skiffle era, and was therefore happy to guest on the album.
Later that year, Van Morrison wanted to perform numerous numbers with Lonnie Donegan (with whom he had recently recorded an album, The Skiffle Sessions - Live In Belfast 1998) when the latter was performing alongside Half Man Half Biscuit at the Queen Elizabeth Hall in London, but Morrison's management was apparently unhappy with him appearing on the show if HMHB were on the bill. Peel explained why he couldn't give tickets as competition give aways for the show on his show of 28 September 1999. Peel on 01 June 2004 mentioned that he'll be "rather inexpertly" compering a Lonnie Donegan tribute night at the Royal Albert Hall on Monday 21st June. Amongst those set to appear were Billy Bragg and Van Morrison. As later revealed on 22 June 2004, Peel was unable to attend the event due to delays returning from the Sonar festival in Barcelona.
Festive Fifty Entries
Shows Played
1968
unknown: He Ain't Give You None (LP: Blowin' Your Mind)
1969
1970
1972
28 July 1972: Saint Dominic's Preview / Redwood Free (LP – Saint Dominic's Preview) Warner Bros.
29 August 1972: Jackie Wilson Said (I'm In Heaven When You Smile) (LP - Saint Dominic's Preview) Warner Brothers
05 September 1972: Gypsy (LP - Saint Dominic's Preview) Warner Brothers
1973
1974
1976
29 December 1976: 'Madame George (LP-Astral Weeks)' (Warner) FF #21 (JP: 'I remember how mad me and me mates went on that when it first came out. As you can hear, it's been played quite a lot. Sorry about that.')
1977
1978
1979
1982
1983
1986
1988
1993
1998
1999
07 January 1999: 'Muleskinner Blues (CD-Muleskinner Blues)' (Capo) (JP: 'I never imagined I'd hear such a thing.')
2004
Them
See Also
External Links
Community content is available under
CC-BY-SA
unless otherwise noted.