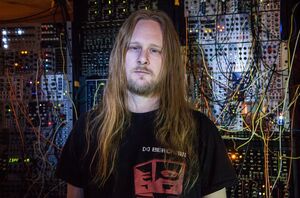 Aaron Funk (born January 11, 1975), known as Venetian Snares, is a Canadian electronic musician based in Winnipeg, Manitoba. He is widely known for innovating and popularising the breakcore genre, and is one of the most recognisable artists to be signed into Planet Mu, an experimental electronic music label. His signature style involves meticulously complex melodies, eclectic use of samples, and odd time signatures, particularly 7/4.
His 2005 release, Rossz Csillag Alatt Született, was released to critical acclaim and has helped bring Funk and the genre into popularity within the experimental electronic music community.
He is a very prolific musician, often releasing several records each year, sometimes on several different record labels, including Planet Mu, Hymen, Sublight, and his own imprint Timesig, and also under other different alias, including Last Step, Snares Man!, Snares, and Speed Dealer Moms. He has also explored other electronic genres such as glitch, IDM, modern classical and even acid techno.... (Read more)
Links to Peel
Funk's only Festive Fifty entry came 11 years after Peel's death, and he recorded no sessions for the programme, although a live set from All Tomorrow's Parties was broadcast.
Venetian Snares played the John Peel Tribute Concert on 12 October 2005: Chris Mugan of the Independent gave the performance a positive view, stating that the music represented "the barely listenable portion of Peel's radio show." [1]
Festive Fifty Entries
Live
Sessions
Other Shows Played
2001
2002
2003
2004
Recommendations
External Links