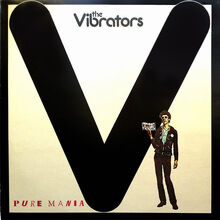 The Vibrators were founded by Ian 'Knox' Carnochan, bassist Pat Collier, guitarist John Ellis, and drummer John 'Eddie' Edwards. They first came to public notice at the 100 Club when they backed Chris Spedding in 1976. On Spedding's recommendation, Mickie Most signed them to his label RAK Records. Most produced their first single, 'We Vibrate'. The band also backed Spedding on his single, 'Pogo Dancing'. The Vibrators recorded sessions for John Peel at BBC Radio 1 in October 1976, June 1977, and February 1978. They were one of the pioneering punk bands that played at London's Roxy Club.
(Read more at Wikipedia.)
Links to Peel
In the history of the John Peel Show, the Vibrators are remembered primarily as the first punk band to record a session, in October 1976, ahead of the celebrated Damned set for the "punk special" show on 10 December 1976, as recalled by Peel and producer John Walters in the Peeling Back The Years series in 1987:
JW: Do you remember the first group that we had on live, the first punk band?
JP: That would have been the Vibrators of course, who were very much looked down on, because they were seen - as they may well have been, I don't know – but they were seen as opportunists by the true punks. But they did get the first record out that could identifiably be described as a punk record. [plays 'We Vibrate']
JW: October 1976 when we took that first step, but then the Dammed did come in in November and did more of a straight punk session, and were jolly friendly pleasant boys when they came in.[1]
Festive Fifty Entries
Sessions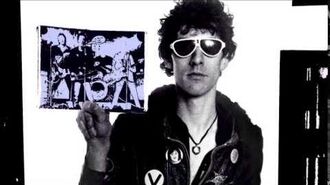 Three sessions. Released on The BBC Punk Sessions CD / LP, 2000, Captain Oi! Also one session as backing band for Chris Spedding (recorded 1976-12-16).
1. Recorded 1976-10-12. First broadcast 28 October 1976.
Dance To The Music / Sweet Sweetheart / Jenny, Jenny / I'm Gonna Be Your Nazi Baby /We Vibrate
2. Recorded 1977-06-13. First broadcast 18 July 1977.
Petrol / Keep It Clean / Baby Baby / London Girls / She's Bringing You Down
3. Recorded 1978-02-27. First broadcast 06 March 1978.
Automatic Lover / Destroy / Troops Of Tomorrow / Fall In Love
Other Shows Played
1970s
1980s
Other
See Also
External Links
References
Community content is available under
CC-BY-SA
unless otherwise noted.