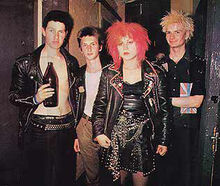 Vice Squad
are an English
punk
rock band formed in 1979 in
Bristol
, with an initial line-up of Beki Bondage (vocals), Dave Bateman (guitar), Mark Hambly (bass guitar) and Shane Baldwin (drums). The band was formed from two other local punk bands, The Contingent and TV Brakes. The songwriter and vocalist Beki Bondage (born Rebecca Bond) was a founding member of the band and left the group in 1982, where she was replaced by Lia Rumbelow. The group split in 1985 and Beki Bondage reformed the band in 1997.
Links to Peel
Peel was an avid supporter of the group in the early 80's and in the book, Burning Britain: The History of UK Punk 1980–1984 (pages 15-16), published in 2004, drummer Shane Baldwin, in an interview, acknowledged the role of JP in helping raise the profile of the band, when the group released Nothing on the Avon Calling compilation in 1979:
"I thought it was a bit strange that Peel was so keen on our track, because there were much more established and capable bands on the record, like Glaxo Babies, Joe Public and The X-Certs. I spoke to John for the first time, a few years ago, pointing out that we were much more 'basic' than the other bands, and he said, 'Well basic is what I like.' I chose to take that as a compliment! [1]
Shane also in the same book mentioned that his father was a big Peel fan:
"My dad was a big Peel fan and listened to the show every night, so that gave me a big kick." [2]
The band did two sessions for Peel's show, as well as one for Kid Jensen's show.
Sessions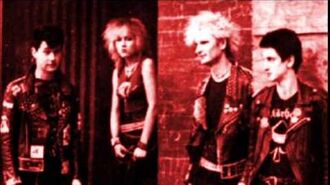 1. Recorded: 1981-06-01. Broadcast:
03 June 1981
. Repeated:
25 June 1981
,
30 July 1981
,
21 September 1981
,
19 October 1981
,
30 December 1981
Coward / It's A Sell Out / 1981 / Times They Are A Changing
2. Recorded: 1982-04-28. Broadcast: 10 May 1982. Repeated: 01 June 1982
Humane / Propaganda / No Right To Reply / Sterile
Other Shows Played
1981
1982
1983
1984
External Links
Community content is available under
CC-BY-SA
unless otherwise noted.