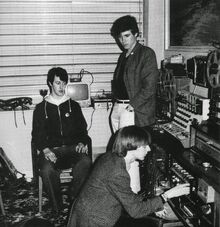 Vice Versa were an electronic music band formed in Sheffield in 1977. Two of its founder members Steve Singleton and Mark White went on to form successful pop group ABC with singer and songwriter Martin Fry who was also briefly part of Vice Versa. The group were part of the alternative electronic music scene in Sheffield together with other similar groups such as The Human League, Cabaret Voltaire and Clock DVA. (Read more on wikipedia).
Links to Peel
Peel would have been made aware of the group as coming from the same scene as show regulars Cabaret Voltaire and The Human League, and played tracks from their "Music 4" EP released on their own label Neutron Records. Unlike the aforementioned co-citizens, however, Vice Versa did not record a session for Peel. At the end of 1979 Vice Versa together with Clock DVA, I'm So Hollow and The Stunt Kites issued a joint EP entitled "1980: The First Fifteen Minutes", all four tracks of which were played by Peel on 1980-02-12.
Vice Versa were among the bands who took part in the Futurama 2 Festival in Leeds in September 1980 which Peel attended. [1]
Stephen Singleton and Vice Versa appear on the Made In Sheffield: The Birth Of Electronic Pop documentary DVD as does Peel.
Sessions
Other Shows Played
1979
1980
1981
External links
Community content is available under
CC-BY-SA
unless otherwise noted.