Vietnam (Vietnamese: Việt Nam), officially the Socialist Republic of Vietnam, is the easternmost country on the Indochina Peninsula in Southeast Asia. With an estimated 94.6 million inhabitants as of 2016, it is the world's 14th-most-populous country, and the ninth-most-populous Asian country.
Vietnam is bordered by China to the north, Laos to the northwest, Cambodia to the southwest, Thailand across the Gulf of Thailand to the southwest, and the Philippines, Malaysia and Indonesia across the South China Sea to the east and southeast. Its capital city has been Hanoi since the reunification of North and South Vietnam in 1976, with Ho Chi Minh City as the most populous city.
Links To Peel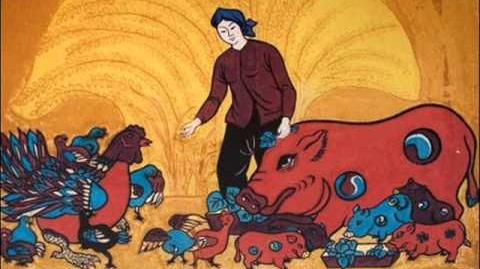 Peel's links with Vietnam was related to the war taking place during the 60's and 70's. As an avid anti-Vietnam war believer, he attended several marches in London against the conflict in 1968. The Pig, his wife, also attended anti-Vietnam war marches in London during the same period, but at that time, did not know Peel until she met him later on in that year.
Peel's Night Ride programmes included many anti-Vietnam war activists, including Adrian Mitchell and Phil Ochs, who appeared on his 18 June 1969 show talking about his music and activism. Apart from musicians and poets who were against the war, Peel had time to add Vietnamese music to his playlists, including some from the BBC Archives. After the war, Peel continued playing occasions, Vietnamese music, majority mainly of traditional genres.
Compilations
(Tracks played by Peel from various artist (v/a) compilations featuring music from Vietnam. Please add more information if known.)
(CD - Hồ #1 Roady Music From Viêtnam) Trikont
See Also
External Links
Community content is available under
CC-BY-SA
unless otherwise noted.