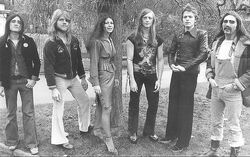 Vinegar Joe were an English R&B band, between 1971 and 1974 in London. They released three albums on Island Records, but were best known for their live shows and launching the solo careers of Elkie Brooks and Robert Palmer. Vinegar Joe evolved out of Dada, a 12-piece Stax-influenced, jazz/blues rock fusion band. Dada released one eponymous album in 1970, with a line up including vocalist Elkie Brooks and guitarist Pete Gage. Singer Robert Palmer, formerly with The Alan Bown Set joined Dada after the album had been recorded. Dada were signed by Ahmet Ertegun for Atlantic Records. After their US tour, Ahmet sub-licensed them to Chris Blackwell of Island Records for the UK and rest of the world, with instructions to reduce the line up to form Vinegar Joe in 1971, adding keyboard player Dave Thompson, but the band was still without a drummer. Phil Collins had unsuccessfully applied for the job.
(read more on Wikipedia)
Links to Peel
Vinegar Joe got plenty of praise in the music press during their lifespan in the early 1970s; Peel played the band's material and they did a session for his programme. In spite of their reputation, they never had any major commercial hits and soon split up, with Peel not paying too much attention to the later, more successful solo records of Robert Palmer and Elkie Brooks.
After reading that former member Robert Palmer had recently died, Peel mentioned on his 30 September 2003 show, that despite Vinegar Joe doing a session for his programme, he regarded them as more of a band that Bob Harris and Pete Drummond would play. In fact the group also did a session first for Pete Drummond.
Sessions
1. Recorded: 1972-02-22. First Broadcast: 10 March 1972. Repeated: 12 May 1972
Ain't It Peculiar / Leg Up / Rusty Red / Early Morning Monday
Other Shows Played
1974
External Links
Community content is available under
CC-BY-SA
unless otherwise noted.