(This page is about the British thrash metal band. For the Argentinian band of the same name, see Virus(2)).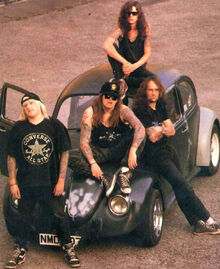 Virus were one of the pioneers of British Thrash Metal formed in 1986 by H Heston & Tez Kaylor, members of the punk/oi! band Criminal Damage. They brought in John D Hess in their forming year & called on the services of Coke Finlay in 1987. Their first recording (Pray For War) was completely funded by the Band itself, it wasn't till their 2nd album (Force Recon) in 1987 that people really started to take notice of the true potential of the band. The Press dogged them,probably because of their strong punk roots, but were favoured more by the skateboarding culture of the late 80′s Labelled the bad boys of Thrash metal because most of their gigs ending up in fights, drunken brawls & roadie punch ups. Virus split up in 1990.
Links to Peel
Peel played several tracks from the band, who also did a session for Tommy Vance's Friday Rock Show in 1988 on BBC Radio One.
Shows Played
External Links