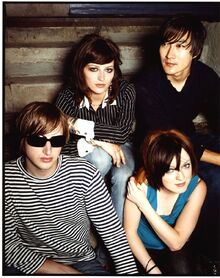 The Von Bondies were an American garage rock band active from 1997 to 2011.
The original line-up formed at the 1997 Cramps/Guitar Wolf show by Jason Stollsteimer and Marcie Bolen. They went through a variety of member changes and band names, including The Baby Killers, before settling on The Von Bondies in 2000. Don Blum joined the band around 1999 after attending numerous Baby Killers shows, while Leann Banks was picked via an audition.
The Von Bondies got their break by playing a New Year's Eve show in Detroit, Michigan, in 2000. In attendance at the show was Long Gone John, owner of the Sympathy for the Record Industry label. This led to Sympathy releasing the band's debut album Lack of Communication in 2001.
In 2003, the band released the live Raw and Rare through Dim Mak Records, which was followed by their 2004 breakthrough release, Pawn Shoppe Heart, on Sire Records. Pawn Shoppe was produced by Jerry Harrison of Talking Heads and co-produced by Stollsteimer.
The group disbanded in July 2011.
Links to Peel
During the garage rock revival in the early 2000's, many artists including the White Stripes and the Von Bondies were played by Peel.
The Von Bondies toured with the White Stripes during their European tour in 2001, where Peel mentioned on his November 2001 (FSK) show that his son, William and his girlfriend along with friends saw them play in Edinburgh, Scotland and thought they were amazing. During that period, both bands at that time had time to do a session for Peel's programme, where Jack White contributed as a keyboard player on the session track, No Sugar Mama.
Peel was also impressed by the Von Bondies cover version of the Boys Blue's 1965 track 'Take A Heart', recorded for their second session in May 2002. He mentioned this on his 25 June 2002 show, commenting, "I'm always impressed by the fact that American bands are not ashamed to admit that they've heard records more than a year or so old."
In 2003, Peel nominated their album, Raw & Rare as one of his albums of the month for June 2003 (Peel's Record Box).
In total, the Von Bondies did three sessions for Peel's shows.
Festive Fifty Entries
Sessions
1. Recorded: 2001-11-22. Broadcast: 22 November 2001
Lack Of Communication / Nite Train / Sound Of Terror / Going Down / It Came From Japan / Pawn Shop Heart / My Baby's Cryin' / Rock & Roll Nurse / No Sugar Mama / Please Please Mam / Ben Swankin' Lovin' It
2. Recorded: 2002-05-12. Broadcast: 27 June 2002
Vacant As A Ghost / Save My Life / Cryin' / Take A Heart
3. Recorded: 2004-01-21. Broadcast: 18 February 2004
C'Mon C'Mon / Poison Ivy / Broken Man / Can't Stand It
Live
Live from the Reading Festival. Broadcast: 27 August 2002
It Came From Japan
Going Down
Broken Man
Rock 'n' Roll Nurse
Live from Glastonbury. Broadcast: 30 June 2004
Lack Of Communication
Tell Me What You See
C'mon C'mon
Pawn Shoppe Heart
Other Shows Played
2002
2004
External Links
Community content is available under
CC-BY-SA
unless otherwise noted.