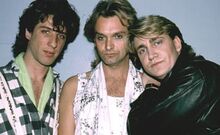 Wang Chung were a pop group group formed in London in 1980. They had one UK hit in 1984 with the single 'Dance Hall Days'. Follow-ups 'Everybody Have Fun Tonight' and 'Let's Go' failed to match the success of their debut hit, although were more successful in the US reaching nos. 2 and 9 respectively. Their album Points on the Curve reached no.34 in the UK and no.30 in the US.
The group's name derives from "huang chung", (lit. 'yellow bell') the name given to the first note in the Chinese classical music scale, and was the spelling originally used for the group, changed to Wang Chung in 1983 on the suggestion of their American record company Geffen.
Wang Chung released an album entitled Tazer Up! in 2012
(full details on Wikipedia)
Links to Peel
There is no record of Peel ever playing any of Wang Chung's music on his show, although he did introduce them on their Top of the Pops debut in March 1984.
As a point of interest an early formation of the group named 57 Men included Leigh Gorman, who would go on to join Bow Wow Wow and plays on their one and only Peel session, and vocalist Glenn Gregory, later of Heaven 17, whose early work was championed by Peel.
Sessions
Shows Played
Top Of The Pops
External links