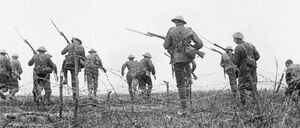 War is defined in the Merriam-Webster dictionary as "a state of usually open and declared armed hostile conflict between states or nations...a period of such armed conflict". [2]
John Peel was born on 30 August 1939, a few days before the outbreak of the Second World War but admitted to not remembering much about it, beyond being carried out to an air-raid shelter and seeing a German plane fly low over his garden. [1] His father served in North Africa: as a result, JP saw little of him for the first six years of his life.
Peel made an early application to be called up and entered the Royal Artillery: not through choice but because, as he explained in Margrave, he was only submitting to the inevitable (only those born after the outbreak of war were exempt). After initial training on Salisbury Plain, he obtained a compassionate posting to Ty Croes Camp on Anglesey (due to his parents' divorce and wanting to be close to where his brother Alan was posted). Peel later claimed that he learned little during his time in service and never saw military action:
"I certainly didn't go in there with the intention of, I had no choice actually, with the intention of trying to kill anybody, and I was grateful that nobody seemed to be interested in killing me at the time either." [3]
National Service had an impact on his later life, not least because it enabled him to live in the United States for seven years (1960-67) without being called up into the US armed forces and possibly sent to fight in Vietnam. As he had already served in the military he was exempted from the draft.
Later in life, he named as his favourite literary work Anthony Powell's A Dance To The Music Of Time, which devotes three of its twelve volumes to a vivid account of the central character's life while serving in the Army during World War Two. While there is no front-line action in Powell's work, it includes extensive descriptions of the everyday routines of army life, something Peel would have experienced during his National Service.
Pacifism
See also: Campaign for Nuclear Disarmament
JP embraced hippie ideals during his final year in the USA, while he was working on KMEN. He was shocked by an encounter with a former acquaintance recently returned from Vietnam, who expressed violent pro-war sentiments (as described by Sheila Ravenscroft in Margrave Of The Marshes, pp..213-214). The "escalation" of the Vietnam War in the mid-1960s caused a polarisation of opinion among the American public and Peel was on the side of those who opposed the war. On his return to Britain he expressed his anti-war feelings on the Perfumed Garden and during his early BBC programmes, which sometimes got him into trouble with his bosses at Radio 1. He joined in some protests (including, ironically, a violent anti-Vietnam War demo in Grosvenor Square, London on March 17, 1968) and promoted pacifism along the lines of the slogan "make love, not war,". Later in 1968, he pre-recorded a Top Gear show in order to avoid being caught up in possible violence when a much larger demonstration against the war took place in London, on 27 October 1968. 
Like many hippies, JP kept his distance from the more militant protest groups of the late 1960s; Sheila Rowbotham, the feminist historian and academic who at that time was involved with the revolutionary newspaper Black Dwarf,, mentioned in her memoir Promise of a Dream (London 2002, p.194) that on one occasion, when the newspaper had organised an anti-war demonstration, Peel "gave us backhanded publicity by announcing on his show that he wouldn't be going."
British Forces Broadcasting had an influence on British radio generally in the post-World War Two era, being one of the few available outlets in the 1940s and '50s for aspiring radio presenters, who, after completing their National Service, sometimes found work on the BBC, Radio Luxembourg or the pop pirate stations. Among them were Brian Matthew, David Hamilton and Keith Skues. Later BFBS would feature DJs already familiar to their audience from domestic radio, so in common with his contemporaries such as Tommy Vance and Alan Freeman, Peel regularly made shows for the armed forces: this association ran for nearly thirty years. He once related that during the 1982 Falklands conflict, one seaman liked his shows so much that the ship habitually gave him the tape copies (as he was the only one to show interest).
Effect on Peel's shows
Many of the British artists Peel played were from generations who did not have to undergo National Service - although Billy Bragg and Ralph McTell both signed up with the Army in their teens but didn't stay for long, and John Mayall (born 1933) did three years of National Service including a spell in Korea.  American artists with military experience included Jimi Hendrix (a paratrooper in the US Army), Tim Hardin (in the US Marines) and Country Joe McDonald, who served in the US Navy. Despite, or because of this background, many of these artists were known for expressing anti-war sentiments. These tended to predominate in the Top Gear era, until (like the programme itself) the Vietnam war ended in 1975.. Of all Peel's favourites of that time, only Leonard Cohen voiced a willingness to fight - for Israel, in the Yom Kippur war of 1973, although in the end he only performed for the troops[4].
Armed conflicts were invariably covered in great detail by the BBC, and Peel's show reflected happenings broadcast on the news, either before or during his show. During the first Iraq war of 1991 (in which his former colleague from Radio London, Keith Skues, served, as a Royal Air Force public relations officer), he had to endure his programme being interrupted every half an hour for news bulletins: typically, he noted that this was "entirely deserved" but admitted it made planning his show rather difficult.
In 2003, Peel voiced his opinions of the second Iraq war, on his German FSK radio programme, something he would not have been allowed to do on his BBC Radio One shows:
"As you might imagine there has been an amazing amount of hypocritical nonsense about the, well the, recent war in Iraq. In my own opinion, it is a continuing war and will continue for a long time in one form or another and the newspapers of course, have been interesting to say the very least, some of them are desperate, some of them are pro-war, others are extremely anti-war." [5]
Plays
This is a tentative list of tracks played by Peel that either mention a particular armed conflict or have a general pro- or anti-war message together with the first known TX.  Songs that are not directly concerned with the above are not included. In some cases, songs were broadcast as sessions before an official release: in these instances, the BBC version takes precedence.
The list includes both contemporary material referring to twentieth-century wars and songs dealing with historic conflicts, most of them from the folk tradition and written from the point of view of ordinary soldiers or sailors, or the relatives or sweethearts they left behind.
Please correct any glaring omissions.
See Also
NME: Peel played tracks from the music paper's 1988 'Feel Like I'm Fixin' To Die' compilation LP of tracks related to the Vietnam War.
Footnotes
↑ Margrave Of The Marshes, Bantam Press 2005, pp.8-9.
↑ This would eventually be the band's biggest hit, retitled All Together Now and first TX 11 November 1990.
↑ World War 1 song, written by Gus Cannon of Cannon's Jug Stompers and recorded by them in 1929. Band was otherwise known as the Panama Limited Jug Band. Their first LP, released on Harvest Records in September 1969, lists one Jonathan Peel as producer[1]