Warp (also known as Warp Records) is an English independent record label, founded in Sheffield in 1989 by record store workers Steve Beckett, Rob Mitchell and record producer Robert Gordon. It is currently based in London.
In the 1990s, the label became associated with experimental electronic styles such as Intelligent Dance Music, and served as the home of a variety of acclaimed and influential electronic musicians, including Aphex Twin, Boards Of Canada, LFO, Black Dog, and Autechre. Current artists on the label roster include Flying Lotus, Rustie, Oneohtrix Point Never, Danny Brown, Grizzly Bear, Brian Eno, TNGHT, and Kelela.
(Read more at Wikipedia.)
Links To Peel
Edit
In June 1998, the opening night of the Meltdown festival curated by Peel was a Warp label live special featuring Autechre, Broadcast, Plaid and Plone.[1] The DJ closely followed the evolution of the Sheffield label from early "bleep techno" 12-inch dance singles from outfits such as LFO and Nightmares On Wax to a wider range of experimental electronic music more for home listening, including releases by session artists Aphex Twin and Boards Of Canada.
Warp initially tapped into two areas that interested Peel: the local Sheffield tradition of electronic music and the northern club music explosion of the late 1980s from both sides of the Pennines. The first album released by the label was by Sweet Exorcist, who featured Richard H. Kirk of Peel session veterans Cabaret Voltaire. It subsequently worked with other electronic music artists long championed by the DJ, including Alex Paterson (of the Orb) and Brian Eno.[2]
Outside Warp's usual parameters, Peel also gave airtime to releases on indie subsidiary label Gift, including early 90s singles from Sheffield session stalwarts Pulp, before the band signed for Island.[4]
After Peel's death, Warp publicly thanked the DJ for his backing:
"John was a great supporter of our music and, as with so many other labels and artists around the world, he was the first person to contact us when we started the label. He phoned the shop in Sheffield himself in 1989 before anyone had a clue what we were doing and was raving about the Forgemasters track[3] - it made our day." [5]
Sessions
Edit
Warp artists who recorded Peel sessions. List includes sessions when the artists were not on Warp.[4]
Festive 50
Edit
According to The Festive Fifty by Mark Whitby (1st edition, 2005, pg195), Warp had the joint 19th most Festive Fifty entries of any label in Peel's lifetime (with 13, level with Big Cat and Reception), and the 18th highest number of separate tracks (13, one behind Cog-Sinister, Duophonic and Probe Plus).
The list below covers Festive Fifty entries on Warp; it does not include entries by Warp artists on other labels. Please add further information if known.
Post-Peel
Compilations
Edit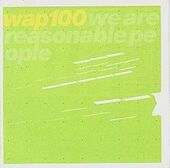 (3xLP / CD - We Are Reasonable People)
(4xLP / 2xCD - Warp 10+3 Remixes)
See Also
Edit
References
Edit